Dave Rempis: Rip Tear Crunch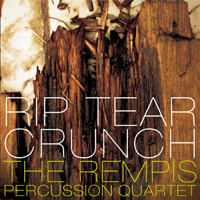 year: 2006 | cat#: 482-1046
Tracks
| | |
| --- | --- |
| 1. | Shreds |
| 2. | Flank |
| 3. | Rip Tear Crunch |
| 4. | Dirty Work Can Be Clean Fun |
| 5. | The Rub |
Buy Online
Buy now at 482music.com:
Free shipping within the continental U.S.
Or at these retailers:




The Rempis Percussion Quartet
Document Chicago #11
"The name of Dave Rempis's latest group is fair warning: never before has the local saxophonist led a band that hit this hard. Bassist Anton Hatwich provides a stable fulcrum with his thrumming, insistent vamps, around which drummers Frank Rosaly and Tim Daisy, both on trap sets, play a dynamic array of swinging beats, interlocking Latin motifs, martial cadences, and nuanced, meterless textures. Even at full throttle the two drummers mesh precisely, despite their divergent styles: Rosaly's is fluid and sinuous, busy with double- kick flutters, while Daisy's is more spiky and agitated. Rempis sketches keening alto and tenor lines across the surface, taking a more overtly melodic tack than he does in Triage or his free-improv quartet with Jim Baker. At other times he switches to baritone and plunges down into the ensemble's dense and surging rhythms, using his horn like yet another percussion instrument--and it's then I start thinking this might be the best new jazz band in town. The set I caught a couple weeks ago at Hotti Biscotti created an unstoppable momentum with its seamless transitions, opening with a polyrhythmic whirlwind worthy of late - 60s Pharoah Sanders and building from there." - Bill Meyer, Chicago Reader
Musicians: Dave Rempis (saxophones), Anton Hatwich (bass), Tim Daisy (drums), Frank Rosaly (drums)
"Top Ten 2006" — Jay Collins, Cadence
"Critics\' Picks 2006 Top 5- \'The best live band in town has come up with one of the best records of the year\'" — Bill Meyer, Chicago Reader
"...the record all fans of these fantastic musicians have been waiting for." — WNUR
"Saxophonist Dave Rempis embodies all of the best qualities of the Chicago improvisational music scene: he's a gifted but disciplined player who knows his instruments inside and out; he's a fearless, imaginative improviser; and he uncomplainingly works his ass off...Rip Tear Crunch (482 Music, 2006), is one of the year's best—and most bracing—releases." — Paul Olson, All About Jazz
"...connects to styles and historical moments far from jazz ...the quartet\'s sets flow with inexorable logic and irresistible momentum from African- and Caribbean-influenced beats before moving into meterless textural explorations and tumultuous barrages." — Bill Meyer, Downbeat
"\"Shreds\", the opening track, starts with four bars of Tim Daisy\'s and Frank Rosaly\'s polyrhythmic and interlocking rhythms, followed by Dave Rempis\'s opening theme and then Anton Hatwich\'s ascending bass line. The nuanced interplay among the quartets members establishes a compelling momentum that sustains throughout.... an excellent cd..." — Daniel Godston, Jazz Institute of Chicago JazzGram
"...impressively poetic and percussive ...a mammoth effort of experimental improvisational music." — Brian Gilmore, JazzTimes
More Information...
Pick of the Week — WNUR
Top Live Shows — Time Out Chicago
Get braced for Rip Tear Crunch — Toronto Star
Band's leader would rather make music than define it — Lexington Herald-Leader
Critic's Choice — Chicago Reader
Downtown Music Gallery review — Downtown Music Gallery
2006 Top 10 — WNUR
Dave Rempis main page at 482music.com
Copyright © 2017 482 Music