Dave Rempis: Out of Season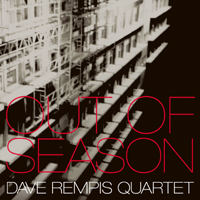 year: 2004 | cat#: 482-1021
Tracks
| | |
| --- | --- |
| 1. | Out of Season part I |
| 2. | Interlude - mp3 sample |
| 3. | Out of Season part II |
| 4. | Out of Season part III |
| 5. | Scuffle part I |
| 6. | Scuffle part II |
| 7. | Never at a Loss |
Recorded October 6, 2003 live at 3030 in Chicago. After nearly four years of developing their voice as an improvising collective, Rempis (Triage, Vandermark Five, Thread Quintet, Territory Band) and his quartet make their recorded debut with this live set.
Following two years of regular work as a drummerless trio that explored quieter dynamics and the harmonic possibilties of their instruments, the group added drummer Tim Daisy and pianist Jim Baker's synthesizer to the mix in 2002 to create a louder, more sound-oriented approach to creating longform free improvisations.
Musicians: Dave Rempis (alto & tenor saxophone), Jim Baker (piano), Jason Roebke (bass), Tim Daisy (drums)
"A pristine, studio-quality set, the disc was recorded live at Chicago venue 3030... And it's one of the best recent examples of the powerful, incendiary sounds that mark the town as a prime center of forward-looking jazz." — Peter Aaron, All About Jazz
"...one of the most promising artists on Chicago's improvised music scene." — Howard Reich, Chicago Tribune
"Saxophonist Dave Rempis is one of the busiest and most versatile jazz musicians in Chicago--a crucial member of groups as stylistically varied as the Vandermark 5, Triage, and the Thread Quintet. In the egalitarian quartet that bears his name, Rempis is less a leader than one of four idiosyncratic, authoritative personalities: the music on the group's recent debut, Out of Season (482 Music), sounds like an animated discussion among close friends. Rempis, drummer Tim Daisy, bassist Jason Roebke, and pianist-electronicist Jim Baker easily anticipate one another's moves: they've been playing together in this setting for a few years and have collaborated regularly in other combinations as well. Their improvisations ebb and flow powerfully, varying in density and urgency, and the musicians ingeniously reinforce evolving melodic lines, textures, and tone colors, sometimes dropping out one or two at a time to create a radically different center of gravity in the group." — Peter Margasak, Chicago Reader
"Intense and coiled, the quartet meshes perfectly as sound is churned on the turnstiles of a whetted imagination... the players envision space and fill it with edgy, percolating textures and ruminations." — Jerry D'Souza, All About Jazz
"If you want to get an idea of what some of the best musicians in Chicago really sound like, this is an excellent starting point. A recording of this group has been long overdue." — Chris Forbes, Cosmic Debris
"The band's sound is characterized by his impassioned saxophones and Jim Baker's crisp gospelish urgency at the piano. Bassist Jason Roebke goes his own way, yet always fits right in and Tim Daisy's understated yet forceful percussion is just right for the dynamic intensity of Rempis' music. Even at its most deliberately paced, the band achieves an enviable rapport, making this a consistently intriguing and rewarding release." — Stuart Kremsky, IAJRC Journal
"This is, in my opinion, a pretty classic record." — Paul Olson, All About Jazz
More Information...
2004 Top 50 — WNUR
Critic's Choice — Chicago Reader
Cultural Center CD release show — Chicago Tribune
3030 CD release show — Chicago Sun Times
Out of Season — Cosmic Debris
Out of Season — Jazz Institute of Chicago
Out of Season — The Wire
Flying Blind — Cadence
Out of Season — Bad Alchemy
Out of Season — A Putada Subjectividade
Dave Rempis main page at 482music.com
Copyright © 2023 482 Music