Mike Reed: Flesh & Bone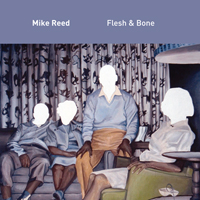 year: 2017 | cat#: 482-1100
Tracks
| | |
| --- | --- |
| 1. | Voyagers |
| 2. | First Reading: SF Sky |
| 3. | Conversation Music |
| 4. | A Separatist Party |
| 5. | The Magic Drum |
| 6. | My Imaginary Friend |
| 7. | I Want to be Small |
| 8. | Second Reading: Me Day |
| 9. | Watching the Boats |
| 10. | Call of Tomorrow |
| 11. | Scenes From The Next Life |
From the liner notes:

"Our first mistake was to trust a stranger. This wasn't just any person, but the conductor of the train that was taking my quartet through the Czech Republic to Krakow, Poland. It was the fourth date of our two-week tour. The conductor seemed quite helpful when he informed us that our connection had changed and was going to be the next stop, the small town of Prevov, in the Czech Republic. With that bit of information we thanked him and exited the train. (We would find out weeks later that the neo-nazi rally planned for that afternoon of April 6, 2009, had been well publicized and surely something this conductor would have been aware of, possibly even to the point of wanting to deliver four Americans, two African American, into the waiting arms of hundreds of nationalist demonstrators).

"Upon arriving in the small train station, the unusual sight of riot police, armored vehicles and attack dogs didn't automatically register peril; it might have just signified the arrival of a local dignitary, parade or small race that might be happening that bright afternoon. Our realization that impending doom was on the horizon came when the confused officer in full riot gear clutching his automatic weapon asked what we were doing there and before we were able to answer he warned that "there is to be a skinhead rally here soon. You need to leave." That was all that was needed to kick the fight or flight instinct into action.

"But flight to where? ..."
Musicians: Greg Ward (alto saxophone), Tim Haldeman (tenor saxophone), Jason Roebke (bass), Mike Reed (drums) with Ben Lamar Gay (cornet), Jason Stein (clarinet), Marvin Tate (words)
"It's probably a little too hyperbolic to call Flesh & Bone the most important release of the year. At the same time, it's impossible to overstate the importance of its message at this critical time. But even if you don't get the message, the music brings more than enough flair to stand on its own." — S. Victor Aaron, Something Else reviews
"At this point, we can say it plain: If a Chicago jazz musician of any repute puts out an album, give it a shot. The city never lost its place as a hub for improvised music, but nowadays the bounties run especially thick. Mr. Reed, a drummer and club proprietor, is one of the scene's major driving forces. His latest album of original music, "Flesh & Bone," out next week, began as a reflection on a harrowing (and, this week, newly relevant) experience: On tour in the Czech Republic, he and three band mates found themselves trapped for hours, fearing for their lives, in the middle of a violent neo-Nazi rally. Written in the wake of that misadventure, "Flesh & Bone" shines its light through a fog of bewilderment and outrage — moving from Mingus-esque miniature arrangements to open-air improvisations to the occasional splash of spoken-word poetry. On "A Separatist Party," Jason Stein's bass clarinet dances in a coy, misfit step with the Greg Ward and Tim Haldeman's saxophones. On bass, Jason Roebke locks in with Mr. Reed for a head-down, sticks-up rock beat. " — Giovanni Russonello, The New York Times
"Stemming from an event that is unfortunately more topical than ever, but without an obvious agenda, this is one of the most fully-realized efforts in Reed's burgeoning discography." — Troy Collins, All About Jazz
"Although it will be tempting for some to view this as a kind of "protest" record, given the encounter with racial animosity that precipitated it, Reed's more interested in raising questions than providing determinate answers. Firmly in the legacy of Charles Mingus or Rahsaan Roland Kirk, Reed has a healthy appreciation for the ironic and the absurd – as does Tate, whose irreverent spoken-word segments on three of the tracks are both potent and disarming." — Troy Dostert, The Free Jazz Collective
"CD della settimana!" — Giuseppe Segala, All About Jazz
More Information...
Mike Reed main page at 482music.com
Copyright © 2023 482 Music