Nicole Mitchell / Tomeka Reid / Mike Reed: Artifacts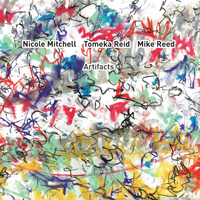 year: 2015 | cat#: 482-1093
Tracks
| | |
| --- | --- |
| 1. | Composition 23B |
| 2. | Jo Jar |
| 3. | Bernice / Days Fly By with Ruby |
| 4. | Clowns |
| 5. | Have Mercy on Us |
| 6. | BK |
| 7. | I'll Be Right Here Waiting |
| 8. | Munkt Munk |
| 9. | Light On The Path |
-2015 NPR Jazz Critics Poll
-The Best Albums of 2015 - Nate Chinen, The New York Times
-Best Releases of 2015 - Troy Collins, All About Jazz
-The Best Jazz Of 2015 - Stewart Smith, The Quietus
-Top 10 2015 - Paul Acquaro, The Free Jazz Collective
-Top 10 2015 - Lee Epstein, The Free Jazz Collective: "Exactly the AACM tribute needed to
show both the deep history and fresh voices that still exist. I want so many more albums with this trio."


Five decades ago some of the most important thinkers and musicians in the future history of creative music gathered on the South Side of Chicago to chart a new path of self-determination. The Association for the Advancement of Creative Musicians was formed to allow a core group of visionaries to present original music without the impediments of the local jazz business. They presented their own concerts, often in settings miles apart from the noisy, inattentive setting of jazz clubs that were often hostile their music. Hindsight now confirms that Muhal Richard Abrams, the Art Ensemble of Chicago, Anthony Braxton, Henry Threadgill, Wadada Leo Smith, Amina Claudine Myers, and many others were onto something big. Of course, the AACM has prospered ever since, fostering a remarkable string of talent. Now, an all-star trio of recent AACM members has formed to celebrate that legacy during its 50th anniversary. Cellist Tomeka Reid, flutist Nicole Mitchell, and drummer Mike Reed - three of the most important and acclaimed musicians connected to the AACM over the last two decades - recognized the value of taking a look at the AACM's rich history for their new collective trio, which Tomeka Reid conceived for a concert in Seattle early in 2015.

The 2015 concert calendar has been packed with events celebrating the organization's legacy, although most of these events have featured new work - one of the AACM's key tenets was to create new, original music. The problem with this ethos is that much of the music that's been produced by AACM figures has been relegated to recordings. This repertoire is a living, breathing thing, and this dynamic trio is masterfully reinvigorating it on this debut recording. "I wanted to do something, since my participation in the organization has been a big part of my Chicago music experience and I wanted to honor that," says the cellist.

Says Mitchell, who now lives in Los Angeles where she teaches at the University of California, Irvine: "50 years later, Mike, Tomeka and I stand back and look at this beautiful legacy and we want to go into the portal and be a part of some of that past while we ride into the future with our own music. We're all clearly committed to making our own music all the time, but it's also a fun adventure to play some of these tunes that even the composers might have left behind for the new."

Adds Reed, one of the most respected bandleaders and concert presenters in Chicago: "So much of what they were wanting to accomplish has happened. Also, it's evident that none of the early members wanted their compositions to go away or not be accessible and archived." Each member of the group brought in some of their favorite pieces, forming an impressive repertoire spanning the AACM's entire history — from Roscoe Mitchell's "Jo Jar," a piece originally cut by a quartet that presaged the Art Ensemble, to guitarist Jeff Parker's "Days Fly By With Ruby," which is based on a riff from Fred Anderson's "Bernice" and here braided together to underline the connection.

Reid points out that while the trio might be looking into the past, its arrangements are thoroughly contemporary. "Our instrumentation gives many of the works another spin as none of the seIected pieces were created with our exact format," she says. Indeed, the trio brings a unique personality to compositions by Abrams, Braxton, Myers, Leroy Jenkins, Edward Wilkerson Jr., and Threadgill's trio Air.

For Mitchell, the trio was also an opportunity to try new ideas with her own technique. "This is its the first group that I'm utilizing electronic effects with my flute," she says. "It's a new language I'm working on but I don't want to use it in every situation. I thought this trio would be a perfect place to take off with these experiments." All three musicians lead their own bands and have established strong personalities. Reid recently released her debut album as leader with a quartet featuring guitarist Mary Halvorson, bassist Jason Roebke, and drummer Tomas Fujiwara. Mitchell, a prolific composer, has released many albums by various incarnations of her Black Earth Ensemble as well as larger bands chronicling a slew of album-length suites. Reed leads the quartet People, Places and Things and the quintet Loose Assembly, in addition to operating the celebrated Chicago multi-arts venue Constellation.

One listen makes it clear that there's nothing nostalgic or retro about this endeavor. Reid, Mitchell, and Reed explore the past through an utterly contemporary lens. "Perhaps those that have closely followed the AACM are familiar with these compositions, but maybe through hearing our performance or recording, some listeners might be compelled to investigate the originals and the AACM in general, continuing to expand the awareness of those composers and the organization.
*
Some words about the music:

"Compositions 23b" was composed by Anthony Braxton; from the album Quartet - Live At Moers Festival.

"Jo Jar" was originally recorded by the Roscoe Mitchell quartet in 1966 before the release of Roscoe's album Sound (which is universally accepted as the first AACM album to be released). This composition pre-dates Sound and is dedicated to his colleague and future Art Ensemble member Joseph Jarman.

"Bernice" was written by the great tenor saxophonist Fred Anderson. His venue, the Velvet Lounge, was a center point for creative music and an incubator for many. Jeff Parker was one of the many that performed with Fred and was inspired and mentored by Anderson. Parker's composition, "Days Fly By with Ruby" is based off a Fred Anderson saxophone riff, which Jeff developed into the underlying theme of this tune.

Violinist Leory Jenkin's piece "The Clowns" seemed appropriate to include, from one of the formidable string players of the AACM. The piece presents the great conundrum of the line between composition and improvisation, or instant composition. Originally from the album Space Minds, New Worlds, Survival of America.

"Have Mercy On Us" is by Amina Claudine Myers, originally from the album Song For Mother E.

The AACM trio known as Air, consisting of Henry Threadgill, Fred Hopkins and Steve McCall, gave us the compositions presented here: "BK" and I'll be "Right Here Waiting". Both are pictures of Air at its finest.

"Munkt Munk": a rather angular piece by Muhal Richard Abrams form his album Colors In Thirty-Third. There's plenty of twists and turns on this one, to mess with one's sense of balance.

Ed Wilkerson was one of the most versatile and talented arrangers and composers to emerge from Chicago and the AACM in the late 70's and 80's. This was most evident in the long running ensemble 8 Bold Souls, for which the composition "Light on the Path" was written and dedicated to the late AACM saxophonist Light Henry Huff.

Musicians: Nicole Mitchell (flutes, electronics), Tomeka Reid (cello), Mike Reed (drums)
"...exceptional... an album of well-chosen repertory reflecting 50 years of Chicago's Association for the Advancement of Creative Musicians." — Ben Ratliff, The New York Times
"A second-generation AACM dream team... The album is packed with classic and little-heard gems from the AACM library...I absolutely loved this record from start to finish." — Lee Rice Epstein, The Free Jazz Collective
"The disc's title augurs an aura of the ancient to its contents. No coincidence that the AACM's mantra was and remains "ancient to the future". Mitchell and her musical partners breathe new possibilities into the varied pieces, cementing their stature not as archeological relics, but as still viable vessels for vibrant creative endeavor." — Derek Taylor, Dusted in Exile
"... a compelling and exquisite work that augments their innovative individual styles with a superb almost telepathic camaraderie... this cohesive and fascinating record not only brings together three contemporary masters of extemporized music but also spans half a century and defines an intrepid and revolutionary movement that keeps going strong." — Hrayr Attarian, All About Jazz
More Information...
Nicole Mitchell / Tomeka Reid / Mike Reed main page at 482music.com
Copyright © 2023 482 Music