Mike Reed: People Places and Things: A New Kind of Dance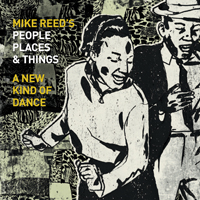 year: 2015 | cat#: 482-1092
Tracks
| | |
| --- | --- |
| 1. | A New Kind of Dance |
| 2. | Markovsko Horo |
| 3. | Candyland |
| 4. | Kwela for Taylor |
| 5. | Reesie's Waltz |
| 6. | Jackie's Tune |
| 7. | Wonderland |
| 8. | Star Crossed Lovers |
| 9. | Fear Not of Man |
| 10. | AKA Reib Letsma |
-NPR Music's Favorite Songs Of 2015 ("A New Kind of Dance")
-2015 NPR Jazz Critics Poll
-Best of 2015: must-hear jazz albums - Chris Barton, The Los Angeles Times
-Top 10 Jazz / Improv 2015 - Bill Meyer, Magnet
-10 Fantastic Jazz Albums 2015 - Jim Macnie, Lament for Straight Line
-The Best Jazz Of 2015 - Stewart Smith, The Quietus
-Best jazz albums of 2015 - Peter Hum, Ottawa Citizen
-Best of 2015 - Dave Sumner, Bird is the Worm
-Best jazz albums of 2015 - iTunes
When drummer, composer and bandleader Mike Reed isn't playing music he spends much of his time watching others making it. But he also observes audiences. As a concert and festival organizer he's informally noted the interaction between performer and audience for years, and while his rapidly expanding discography makes plain he privileges art above all else, his awareness of the listener is always present.

A New Kind of Dance, the sixth album by his long-running quartet People, Places & Things, presents the same deft interactive rapport between alto saxophonist Greg Ward and tenor saxophonist Tim Haldeman; the same crisp rhythmic drive provided by the leader and bassist Jason Roebke; and the same indelible mixture of bluesy depth and measured freedom as its superb predecessors. While the quartet was originally conceived to pay homage to an overlooked era in the rich history of Chicago jazz - namely, the soulful hard bop created by the likes of John Jenkins, Wilbur Campbell, Wilbur Ware, John Neely, and Frank Strozier, among others, in the mid-to-late 50s - the combo has since developed an ever-expanding repertoire, whether examining the potency of the Amsterdam scene on the 2013 album Second Cities Vol. 1 or digging into the music of contemporary Chicago figures on its 2009 album About Us. A New Kind of Dance advances the boundaries of the quartet's repertoire further than ever.
"I don't think that the group's original mission has much to do with this project, but I do think, at its core, the music is meant to be nimble and smart with the arrangements," says Reed. "However, it's never meant to be too smart or removed from the audience." While there are a slew of hard-hitting original pieces by the drummer, the group also tackles the Mos Def tune "Fear Not of Man," the Ellington-Strayhorn classic "Star-Crossed Lovers," and the traditional Bulgarian folk dance "Markovsko Horo." Of the latter, Reed says its inclusion was "a way of summing up some of the music you wished you heard more of in Serbia, Slovenia, Croatia. I've been there several times, but only a few times have I encountered more traditional music. It was all very impressive and energetic, especially for dancing and celebrating."

Reed's connections to the Amsterdam scene are rooted in family ties—his mother grew up there—but he's since developed strong relationships to musicians there. He had befriended the South American expat Sean Bergin, who died in September of 2012, and the influence of his music is very clear A New Kind of Dance. Bergin wrote the hard shuffling "Reib Letsma" and his love of South African kwela has long infected the Dutch scene, as heard on Michael Moore's ebullient "Kwela for Taylor." Says Reed, "There's an influence of grooving improvised music, mostly made in Europe, but which seems to have an original influence from South Africa. Many of those early recordings did have some participation by former members of [South African expats] the Blue Notes, which made me look a little closer at that, and then made me realize the correlation between the music of Sean Bergin, ICP and many of the Dutch and some of the English improvisers. It also seems to parallel the highly conceptual improvising of members of the AACM, who also did not shrug off the more grove-heavy nature of their own musical roots. I guess maybes there's a desire to remember that this band is enjoyed most on a visceral level and to give in to the area that music effects people viscerally, mostly seen in movement."

Previous recordings by People, Places & Things have featured guest musicians dear to the leader's heart, whether through musical influence or personal relationships. Late 50s Chicago ringers Ira Sullivan, Julian Preister, and Art Hoyle played on the 2010 album Stories and Negotiations, while cornetist Josh Berman and pianist Craig Taborn appeared on the 2012's Clean on the Corner. For the new record Reed continued the practice, enlisting the help of veteran New York pianist Matthew Shipp and trumpeter Marquis Hill, winner of the 2014 Thelonious Monk International Trumpet Competition. "I wanted to challenge the quartet situation and make things slightly more dimensional, such as having three-part horn arrangements or having another harmony/rhythm instrument to dictate the path.

"I thought Matthew Shipp would throw some curve balls at the rest of the band. He has some elevated perspectives on improvising, while not standing on top of an ivory tower. His improvising is very humanistic but he has no problem cutting people down to size, so that everyone can operate on a level playing field. Marquis seemed to be the right choice to find the right trumpet blend with Greg and Tim. His tone can keep things very centered and he plays with a purpose."
Musicians: Greg Ward (alto saxophone), Tim Haldeman (tenor saxophone), Jason Roebke (bass), Mike Reed (drums) with Marquis Hill (trumpet), Matthew Shipp (piano)
"You can always count on drummer, bandleader Mike Reed to jar your neural network on a per-album basis." — Glen Astarita, All About Jazz
"Chicago drummer Mike Reed formed People Places & Things eight years ago to mine the midcentury hard-bop heritage of his hometown. That mission held for several albums, before the focus began expanding. A New Kind of Dance (482) shows just how broad that view has become, while preserving a band sound. The album's featured guests, on different tracks, are the pianist Matthew Shipp, a stalwart of the avant-garde, and the trumpeter Marquis Hill, a Chicagoan in the contemporary mainstream. And apart from Mr. Reed's typically spry originals, the repertory runs from a Bulgarian folk dance to a vintage track by the rapper formerly known as Mos Def to an admiring emulation of South African kwela. Still, the earthy, driving intelligence of Mr. Reed and his crew — notably Greg Ward and Tim Haldeman, who form a saxophonic front line — points back to Chicago jazz culture, which sees no contradiction in heady abstraction with a bodily groove." — Nate Chinen, The New York Times
"As it twists and turns – and from tempo to groove to attitude, it's always in motion – the Chicago drummer's frolicsome program doesn't waste a second in its goal to woo listeners. Its concision is beat only by its vigor. Call it freebop at its feistiest (and for a few moments, at its most romantic), using overt dance music traditions from the Balkans and South Africa as triggers for improv. The twin saxes of Greg Ward and Tim Haldeman continuously bubble over, but true scrutiny tells us that the rhythm section is goosing everything here. Things get especially animated when guests Marquis Hill and Matthew Shipp stop by." — Jim Macnie, Lament for Straight Line
"This isn't the first time [they] have attempted a convergence of past and present, but it's an easy argument to make that it represents their best." — Dave Summer, Bird is the Worm
"Mettetela come volete, fatto sta che l'intelligenza di questo batterista ha davvero pochi pari nel jazz moderno." — Vic Albani, All About Jazz Italia
More Information...
Mike Reed main page at 482music.com
Copyright © 2023 482 Music