Ayelet Rose Gottlieb: Shiv'a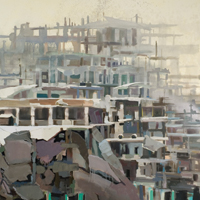 year: 2016 | cat#: 482-1090
Tracks
| | |
| --- | --- |
| 1. | Neshima / Breath |
| 2. | Geshem / Rain |
| 3. | Lulyan / Tightrope Walker |
| 4. | Ra'ash / Earthquake |
| 5. | Esh / Fire |
| 6. | She'ela / Question |
| 7. | Dmama Daka / Thin Silence |
| 8. | Mahsan Yashan / An Old Toolshed |
| 9. | PM |
| 10. | Ties |
| 11. | Leavings (digital dl bonus only) |
Buy Online

"Shiv'a was composed following the death of three dear friends in 2007…" writes Ayelet Rose Gottlieb in the liner notes, "… while I was living between three cities - Wellington, New Zealand and its wild birds and great ocean; New York, USA, with its fast pulse, close friends, loud sounds and crammed streets; and Jerusalem, Israel, where my ancestors' wisdom resides, where the stones hum, where my soul stems from. In the process of dealing with this chain of losses, with my feet off the ground and the earth moving under me, music served, as always, as my anchor… This piece was the pipe through which it moved."

Shiv'a is composed for string quartet and percussion, exploring the process of mourning. Inspired by Jewish and Buddhist traditions, the piece is performed by a stellar group of improvising musicians, the renowned string quartet known as ETHEL and percussionist Satoshi Takeishi.

The string quartet is one of the most commonly used ensembles in western classical music. In Jewish folklore the sounds of the violin and the cello are associated with crying and sadness. Most of the quartet parts are scored in detail, though there are moments in which they have freedoms with octave displacement and dynamics. Other movements are graphically scored. The quartet, in the context of this composition, represents the "givens" of life, and the limited ability we have to shape our own reality.

Percussion instruments represent choice, chance and a connection to nature. Most of the percussion parts are guided improvisations, though there are elements that are precise – the gong, commonly used during Buddhist funerals, is used only in particular parts of each movement to count from one to seven, as a meditative thread throughout the composition.

Shiv'a is released as a limited edition LP with a digital download that includes a bonus track. Original artwork courtesy Noa Charuvi.
Musicians: Cornelius Dufallo (violin), Jennifer Choi (violin), Ralph Farris (viola), Dorothy Lawson (cello), Satoshi Takeishi (percussion), Ayelet Rose Gottlieb (voice) with Anat Fort (piano), Sean Conly (contrabass)
More Information...
Ayelet Rose Gottlieb main page at 482music.com
Copyright © 2023 482 Music