Tomas Fujiwara & The Hook Up: After All Is Said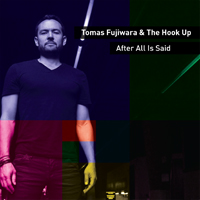 year: 2015 | cat#: 482-1089
Tracks
| | |
| --- | --- |
| 1. | Lastly |
| 2. | The Comb |
| 3. | For Tom and Gerald |
| 4. | Boaster's Roast |
| 5. | Solar Wind |
| 6. | The Hook Up |
| 7. | When |
After All is Said is the third album from Tomas Fujiwara & The Hook Up, featuring Michael Formanek on bass, Mary Halvorson on guitar, Brian Settles on tenor saxophone and flute, Jonathan Finlayson on trumpet and the leader/composer on drums.

Formed in 2008, The Hook Up has grown together and developed a personal voice that highlights their individualism as well as a collective commitment to the sound as a whole composition. In describing the band, Jim Macnie of The Village Voice wrote, "The drummer has named his latest band appropriately. Ensembles can go anywhere if the intra-group chemistry is cooking…Fujiwara sounds like he's got his mates on speed dial." The group's first album, Actionspeak (2010), was named one of the best debuts of 2010 by the New York City Jazz Record and given four stars in Downbeat Magazine. The follow-up, The Air is Different (2012), was described as "multi-directional, polyrhythmic, and urgent…a great record and marvelous band" (Point of Departure) and "perceptive and agile…it nails the productive tension of free improvisation against a sturdy frame" (The New York Times).
After All is Said, recorded in February 2014, adds the acclaimed bassist Michael Formanek to the group, and expands its instrumental palette with Brian Settles playing flute for the first time on a Hook Up recording. The new album continues to emphasize the bandleader's nuanced arrangements while honoring the rich dynamics of these highly acclaimed and virtuosic soloists. As in his previous work, Fujiwara draws inspiration from lineage and ancestry, both artistic and familial.
Musicians: Mary Halvorson (guitar), Michael Formanek (bass), Brian Settles (tenor saxophone & flute), Jonathan Finlayson (trumpet), Tomas Fujiwara (drums)
"...one of the most accessible, challenging and inventive recordings of recent vintage. " — Troy Collins - All About Jazz
"The Hook Up features artists who are among the more prominent representatives of new directions in jazz and improvisation... Here, the leader acts as an instigator and propulsive factor via his rhythmically shaped works, comprised of rolling, tumbling and splintered movements, etched with budding thematic developments. As anticipated, the musicians' synergistic output and cunning narratives yield bountiful fruit." — Glen Astarita - All About Jazz
"Fujiwara's judiciousness continues to be second to none, providing industrious percussive textures one minute, syncopated rhythms another and then knowing when to drop out all together to provide space and more static textures. His arrangements provide a great foil for the soloists, which allows the talents of his band mates to really thrive within the music that sounds dynamic and full of energy. " — Chris Haines - Free Jazz Blog
"New York based drummer Tomas Fujiwara has been slowly building a reputation for excellence. Whether in one of his many collaborative works, such as those with Anthony Braxton, Matana Roberts, Mary Halvorson, and Taylor-Ho Bynum, or as a leader, such as here, Fujiwara has been involved in surprisingly large number of stand-out recordings in the creative jazz scene over the last ten years. His drumming is both dexterous and muscular, but contains a subtlety that can be easy to overlook." — Avant Music News
More Information...
Tomas Fujiwara & The Hook Up main page at 482music.com
Copyright © 2023 482 Music