Mike McGinnis: Angsudden Song Cycle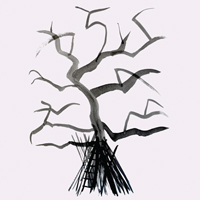 year: 2013 | cat#: 482-1086
Tracks
| | |
| --- | --- |
| 1. | You Were With Me Inside the Wind |
| 2. | Last Night the Wind |
| 3. | You Are Morning - mp3 sample |
| 4. | Encircled, Repeated |
| 5. | Even the Pillow - mp3 sample |
| 6. | It's Still Warm |
| 7. | You Said One Day |
| 8. | We Ate the Wood - mp3 sample |
The Ängsudden Song Cycle was inspired by the paintings and poems of Mike McGinnis' longtime friend, the Filipino American visual artist MuKha. "I always call her my artistic life jacket," McGinnis says. "When I first moved to New York in 1997 and was freaked out by everything, she would turn me on to great books and great art, things that kept me going and inspired me." The inspiration this time is MuKha's own work, in which she used the disappearing language of a small tribe in the Philippines to write a series of poems about the Swedish archipelago at Ängsudden, which she then turned into paintings.

"When I saw them," McGinnis recalls, "the poems and paintings made me hear some kind of music that I never heard before. I'm always into things that push me beyond my comfort zone, and this inspired music that I had never even thought about trying to write." The imagery also connected McGinnis to memories of his childhood in Maine, where he became intimately familiar with the silence of the forest and the crunch of snow or twigs underfoot. He translated those emotions into the brilliant colors and imaginary landscapes of his song cycle.
Clarinetist/saxophonist/composer Mike McGinnis places himself firmly within a strong tradition of anti-traditionalists. He can swing straightahead or improvise on the furthest edge of the avant-garde, bringing the same deep commitment and personal vision to every musical situation. His open-minded and determinedly individual approach has led to work with jazz innovators like Anthony Braxton, Alice and Ravi Coltrane, Steve Coleman, and Lonnie Plaxico; Parliament / Funkadelic keyboardist Bernie Worrell; indie rock mainstays Yo La Tengo; the Afro-Baroque band Stew & The Negro Problem, authors of the Tony-winning musical Passing Strange; and as soloist for the Tony-winning Broadway hit Fela!. The prolific McGinnis' wide-ranging imagination comes to the fore on his latest releases, Road*Trip and The Ängsudden Song Cycle, both of which feature extended compositions showcasing McGinnis' skills as both composer and improviser.
The Ängsudden Song Cycle is released as a vinyl LP with a cd insert of the complete program.

Musicians: Kyoko Kitamura (voice), Mike McGinnis (clarinet, bass clarinet), Sara Schoenbeck (bassoon), Khabu Doug Young (cavaquiño), Sean Moran (acoustic guitar), Jason Kao Hwang (viola), Dan Fabricatore (bass), Harris Eisenstadt (percussion, vibraphone)
"A transformative beauty. Just simply wow. Pick of the Week." — Dave Sumner, eMusic
"... a poetically driven artistic statement... a clarinet-centered, stringbased song cycle, portraying nature through achingly beautiful arrangements." — New York City Jazz Record
"... a fine octet of Downtowners whose names you should recognize ... superbly recorded and the sound is most exquisite... this music is in between categories, sort of chamber jazz, but really it is unique. " — Bruce Gallanter, Downtown Music Gallery
"...one of the more compelling album releases of 2013." — Bird is the Worm
More Information...
Angsudden Song Cycle — New York City Jazz Record
New on 482 — Downtown Music Gallery
Roulette record release show — New York City Jazz Record
Mike McGinnis main page at 482music.com
Copyright © 2023 482 Music