Dana Reason: Angle of Vision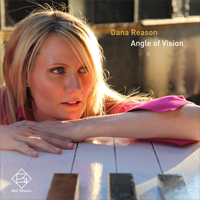 year: 2013 | cat#: 482-1085
Tracks
| | |
| --- | --- |
| 1. | Rendezvous - mp3 sample |
| 2. | Unmarked |
| 3. | Paris Tango |
| 4. | On My Way - mp3 sample |
| 5. | Moments with Clara |
| 6. | Night Club Skin |
| 7. | Angle of Vision |
| 8. | God Bless the Child |
| 9. | Play Ball - mp3 sample |
| 10. | September |
| 11. | Transition |
| 12. | Someday |
A really nice trio date from Dana, a long-time 482 friend, with Peter Valsamis and the Glen Moore.
Currently available in digital format from your favorite store(s). Complete liner notes are below. If you are interested in printing a cd booklet and / or tray card, please let us know via the Contact form..
Musicians: Dana Reason (piano), Glen Moore (bass), Peter Valsamis (drums)
"As piano trio records go, Angle of Vision is comfortably traditional (it would sit well on a shelf between Bill Evans and Vince Guararldi), but Reason's voice as a composer and instrumentalist is firmly her own, and well worth listening to." — Joe Tangari, Downbeat
More Information...
Angle of Vision — Downbeat
Dana Reason main page at 482music.com
Copyright © 2023 482 Music