Stirrup: Sewn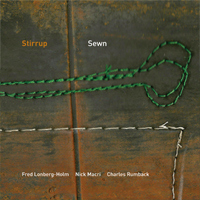 year: 2013 | cat#: 482-1084
Tracks
| | |
| --- | --- |
| 1. | In Zenith I |
| 2. | Floating Melody - mp3 sample |
| 3. | The Profit of Field Stripping |
| 4. | Super Seeded - mp3 sample |
| 5. | Song for Salim - mp3 sample |
| 6. | Insen for Yonsei |
| 7. | Convulsive |
| 8. | In Zenith II |
Stirrup is Fred Lonberg-Holm, Nick Macri, and Charles Rumback. They first played together as "the shimmering rhythm section of the Horse's Ha," (Time Out Chicago) and decided to form their own trio in 2009 to explore deep grooves, moody harmonies, and extended structures. A true collective, all three write and arrange for the band with influences as varied as the list of bands and musicians Stirrup's members have worked with including Ken Vandermark, Mark Eitzel, Wilco, Via Tania, Anthony Braxton, Nina Nastasia, Hector Zazou, Jeremy Enigk, L'Altra, Boxhead Ensemble, Peter Brötzmann, and Laetitia Sadier (of Stereolab).
"To call this jazz is only partially accurate, and other poorly defined classifications (chamber jazz, post-rock) also miss the mark," says Chicagomusic.org. "It defies easy categorization not because it's innovative, but because it draws from several traditions without ever tipping its hat too conspicuously in any one direction or approaching pastiche. It's careful and deceptively adventurous, out music anyone can enjoy..."
Musicians: Fred Lonberg-Holm (cello, tenor guitar), Nick Macri (bass), Charles Rumback (drums)
"...a psychedelic horseback ride stitched together using bass ostinatos, supportive drumming, and exploratory guitar and cello solos..." — Brad Farberman, DownBeat
"Swinging, scorching, and sweet, this record is a peak effort for everyone involved." — Bill Meyer, Dusted
"Their sounds are almost always anchored by subtle groove patterns and pulsing ostinatos, which are layered over with drawn out melodies and accumulations of electronic noises. Both their compositions and improvisational sensibilities strike a balance between avant garde sounds with a folk-lyricism." — The Comfort Station
"An om-like foundation sprouts the full-bore bustle of "The Profit of Field Stripping," a tune that brings to mind 19th century Transcendentalism as much as 20th century spiritual jazz." — Scott McNiece, ChicagoMusic.org
"Pieces of blues slip out, rock is hinted at, as are hypnotic folky soundscapes. Stirrup coats American roots music with a layer of avant sound delivered with a pleasing infectious groove... " — Mark Corroto, All About Jazz
"Each piece seems to tell a short story or create a thoughtful mood and each piece does a good job of transporting us to a special place where we float away from the usual stress of everyday life.." — Downtown Music Gallery
More Information...
Stirrup — Downtown Music Gallery
Stirrup main page at 482music.com
Copyright © 2023 482 Music