Nat Reeves: State of Emergency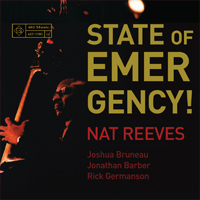 year: 2012 | cat#: 482-1083
Tracks
| | |
| --- | --- |
| 1. | Brick's Blues - mp3 sample |
| 2. | I'll Close My Eyes - mp3 sample |
| 3. | Laverne Walk |
| 4. | Blame it on My Youth - mp3 sample |
| 5. | Fungii Mama |
| 6. | Feel Like Makin' Love |
| 7. | I Love You |
| 8. | I Could Write a Book |
| 9. | Moon River - mp3 sample |
| 10. | Little Waltz |
| 11. | I'm So Tired |
Nat Reeves has built a successful career touring the world with some of the most important figures in jazz in the last half-century, beginning with Sonny Stitt, most importantly in a role in Jackie McLean's band that lasted until McLean's passing, and more recently as the primary bassist for Curtis Fuller, Pharoah Sanders, and Kenny Garrett. While not on tour, Reeves is a long-standing professor of jazz at the Jackie McLean Institute of Jazz at the Hartt School in Hartford, CT.
With State of Emergency, Reeves steps from the sidelines to center stage to lead an accomplished ensemble through a program of lively straight-ahead jazz. In a set comprised mostly of standards, and some less familiar classics, the tunes are played with the relaxed buoyancy that becomes possible when musicians know each other well. That familiarity comes as a pleasant surprise given that two members of the group are relative newcomers. Drummer Jonathan Barber and trumpeter Josh Bruneau studied under Reeves at the Jackie McLean Institute of Jazz , and immediately made their presence felt on the scene. Both players demonstrate chops beyond their years on this record. Veteran New York City pianist Rick Germanson, a long-time associate of Nat's, rounds out the ensemble.
Nat Reeves was born in Lynchburg, Virginia and by age 24 was in New York City, performing in small jazz clubs and at jam sessions. In addition to touring and his professorship at Hartt, he presents workshops with the likes of Pat Metheny, John Scofield, Peter Erskine and Tom Scott. He also performs and records regularly with René McLean, Harold Mabern, Steve Davis, Eric Alexander, David Hazeltine, Houston Person, Larry Willis, Eddie Henderson, Joe Farnsworth, Randy Johnston, Javon Jackson, and Benny Green, to name a few..
..from Nat's liner notes in the cd:
A State of Emergency was declared as the worst nor'easter in Connecticut memory moved in, and we were due to assemble for the first day of recording at Power Station New England in Waterford. We had several days booked and were very excited about this project. We were working with a University of Hartford Faculty Development Grant obtained by Hartt faculty member and accomplished audio engineer Gabe Herman; and my intention was to involve as many students and instructors as possible from the school's Jackie McLean Institute. But the weather made it difficult for many to travel and the project instantly changed... On this record you hear a quartet of brave travelers made up of Josh Bruneau, Jonathan Barber, and, all the way from New York City, veteran pianist Rick Germanson. Josh and "J.B." are two of the finest to emerge from the Jackie McLean Institute. As students, musicians, performers, and friends, their talents make me proud. You will surely hear more from them in the future. Rick is one of the most in-demand artists in New York, and I cannot overstate the value of his generous contribution of time and vast experience to this project, helping our young friends to experience the real deal in a world-class recording studio. Given the time considerations as we hunkered down while the blizzard swirled outside, we played with no rehearsals, tunes we knew, some that we had performed before and some we had not; we called tunes we enjoyed and allowed everyone in the group to shine. With Gabe at the controls, the sessions were relaxed, the chemistry was perfect and the results are proof; there is no indication of the chaos outside. Some months later we took this quartet to play in my hometown in Virginia; we drove back through Hurricane Irene! We knew then this was the State of Emergency band...
Musicians: Joshua Bruneau (trumpet), Jonathan Barber (drums), Rick Germanson (piano), Nat Reeves (bass)
"From its classic sound and eclectic roster of composers and tunes to the vintage design of its cover, Nat Reeves' album State of Emergency! clearly embraces jazz archetypes. This fine bassist's pedigree explains his reverence for the past. Reeves was mentored by Jackie McLean and has played with musicians ranging from Jimmy Cobb to Sting. As for the leader, Reeves' solo on Ron Carter's "Little Waltz" is virtuosic and humorous, his bass singing delightfully." — Terrell Holmes, The New York City Jazz Record
More Information...
Nat Reeves main page at 482music.com
Copyright © 2023 482 Music