Mike Reed: People Places and Things: Clean on the Corner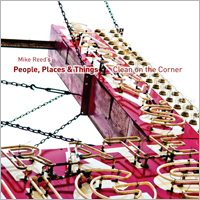 year: 2012 | cat#: 482-1081
Tracks
| | |
| --- | --- |
| 1. | The Lady Has a Bomb - mp3 sample |
| 2. | Old |
| 3. | December? |
| 4. | Where the Story Ends |
| 5. | Sharon - mp3 sample |
| 6. | House of Three Smiles |
| 7. | The Ephemeral Words of Ruth - mp3 sample |
| 8. | Warming Down |
Having completed their acclaimed trilogy exploring undersung repertoire from Chicago's jazz, blues and improvised music scene between 1954 and 1960, drummer/composer Mike Reed's People, Places & Things quartet embarks on a new chapter with their fourth release, Clean on the Corner.
While the new album breaks with the overarching concept of its predecessors, the rewards of Reed's extensive delving into Windy City obscurities is evident throughout Clean on the Corner. Like the composers who he initially set out to honor, Reed's own compositions embrace broad swaths of jazz history with equal vigor, arriving at the avant-garde via the traditional, or taking arcane byways to gain unique perspectives on familiar destinations. PP&T also continue to dust off deserving material from their Chicago forefathers, here spinning corkscrew filigrees on Roscoe Mitchell's "Old" and a bracing run through "Sharon," written by little-known alto player John Jenkins.
With the band's initial three-album mission completed in a dizzying two years, complemented by a hectic touring schedule, Reed envisioned their next album benefiting from a much more leisurely pace. "I originally had taken to the idea of recording the fourth PP&T installment over the course of a year," Reed writes in the album's liner notes. "We would record in various locations with guests as it presented itself. I'd also come up with music not to complete an album project but just for the sake of writing or discovering a new tune! After a while we would have that brand new record and a new process of working on a project."
Time, however, is a commodity that few musicians can spare, much less one as in-demand as Reed. Beside PP&T, he remains an integral part of the Chicago music scene as both performer, in a staggering variety of contexts, and as presenter, working on the Umbrella and Pitchfork music festivals and co-programming (with cornetist Josh Berman) the Sunday Transmission Series at the Hungry Brain for the past eleven years.
But Reed insists that his busy schedule was not the prime factor in Clean on the Corner being recorded at a much more breakneck pace than originally planned, crafted in ten hours over three studio sessions. "The forces behind my sudden change in direction are varied," he writes, "but none are musical. Some people react to life by acting out or thrill seeking – I make things."
What he made turned out to be eight vital new tunes, six originals and the two aforementioned rediscoveries, with the stellar PP&T quartet – Reed, saxophonists Greg Ward and Tim Haldeman, and bassist Jason Roebke, along with special guests Berman and pianist Craig Taborn on two tracks apiece.
"I'm never disappointed with his boundless yet humanistic abilities," Reed says of Taborn, whose collaborators include Tim Berne, Chris Potter, and James Carter. "He's one of those great examples of a person who can fit anywhere." The pianist finds his place with PP&T's history-spanning approach immediately, adding dense clusters to the hard-charging "Sharon" and spinning a mesmerizing web through "The Ephemeral Words of Ruth."
Berman, meanwhile, adds an intimate, street-corner charm to "House of Three Smiles," a piece based on vibraphonist (and frequent Reed collaborator) Jason Adasiewicz's solo on his tune "I Hope She Is Awake," the original version of which also featured Berman and Roebke. The cornetist returns to draw the album to a close with the brief "Warming Down," which replicates the final moments of the pair's Sunday night performances at the Hungry Brain.
The remainder of the stylistically diverse album includes the swaggering swing of opener "The Lady Has a Bomb," the bleak, frosty "December?" whose question mark calls the "holly jolly" aspects of the season into doubt; and "Where the Story Ends," which brackets the quartet's free-form dialogue between lovely, hushed elegance.
No longer an archaeological dig into Chicago's musical treasures, People, Places & Things continue nonetheless to find inspiration in the city's rich jazz heritage. On Clean on the Corner, Reed shows that his band is more than ready to not just spotlight that legacy, but to create its own.
Musicians: Greg Ward (alto saxophone), Tim Haldeman (tenor saxophone), Jason Roebke (bass), Mike Reed (drums) with Craig Taborn (piano), Josh Berman (cornet)
"This Corner is at an intersection of Eric Dolphy, Mingus, Art Ensemble of Chicago, and Johnny Griffin - location, location, location!" — Mark Keresman, Icon
"... what's always most distinguished People, Places & Things is the members' high-level rapport... Saxophonists Greg Ward and Tim Haldeman both have an easy mastery of the stylistic languages of the past and present, and they can egg each other on, finish each other's phrases, and improvise simultaneously without ever getting in each other's way. Reed and bassist Jason Roebke embody Chicago's scrappy, unfussy blue-collar aesthetic in the best ways, giving the music a full-bodied thrust and emotional lift. " — Peter Margasak, The Chicago Reader
"Clean on the Corner should be considered 2012's album of the year..." — Mike Shanley, Shanley on Music
"Drummer Reed has recorded and performed prolifically with his People, Places & Things, a fascinating musical experiment that refracts the jazz past through the sensibilities of the present. The newest recording characteristically echoes the bebop era but also bristles with experimental concepts on pitch, color and structure. A palpable blues spirit pervades pieces such as Reed's "Where the Story Ends" and "House of Three Smiles," composed by Jason Adasiewicz with Reed. Other works, such as Reed's "The Lady Has a Bomb" and Roscoe Mitchell's "Old" convey a streaked-with-dissonance melodic quality one associates with the Association for the Advancement of Creative Musicians (AACM). Saxophonists Greg Ward and Tim Haldeman do much of the heavy lifting here, with disarming sighs from cornetist Josh Berman." — Howard Reich, Chicago Tribune
"If Reed has turned a corner here, it's to shift from music about the three components of this combo's unwieldy name to music about his place in things. I'm already curious to hear where he'll go next." — Bill Meyer, Signal to Noise
"...grittily vivacious.." — TimeOut New York
More Information...
Mike Reed main page at 482music.com
Copyright © 2023 482 Music