Mike Reed: Loose Assembly: Empathetic Parts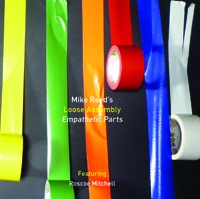 year: 2010 | cat#: 482-1074
Tracks
| | |
| --- | --- |
| 1. | Empathetic Parts |
| 2. | I'll Be Right Here Waiting - mp3 sample |
Empathetic Parts is a very special recording by Loose Assembly, as it features the legendary Roscoe Mitchell, a founding member of both the AACM and the Art Ensemble of Chicago. Loose Assembly, in addition to Reed, is the six-year-old ensemble featuring alto saxophonist Greg Ward, vibraphonist Jason Adasiewicz, cellist Tomeka Reid and bassist Joshua Abrams.
For this record, Reed was "thinking about putting together a group that could engage in what he calls 'collective arranging', an approach in which the structural development, harmony, and shape of a piece of particular music was created spontaneously by the entire band," writes Peter Margasak in the liner notes. "Yet as Reed considered potential musicians for this new band he realized the perfect players were right under his nose." Empathetic Parts consists primarily of one long piece of the same name, conceived for six musicians, which would require a special guest to augment the Loose Assembly lineup. From the beginning, Reed wanted a master improviser. Good fortune made Mitchell available to perform the piece - live, after only a quick read-through of instructions on his flight to Chicago and a single run-through on the afternoon of the gig - at the 2009 Umbrella Music Festival.
While previous Loose Assembly records have primarily featured shorter Reed compositions, "Empathetic Parts" is here accompanied by an appropriately compatible selection, Steve McCall's "I'll Be Right Here Waiting" from the 1978 album Air Time, by the free-improv group Air, arranged here by Reed and Adasiewicz.
Musicians: Mike Reed (drums), Josh Abrams (bass), Jason Adasiewicz (vibes), Roscoe Mitchell (alto sax, soprano sax, flute), Tomeka Reid (cello), Greg Ward (alto sax)
"A cross-generational summit meeting between one of the organization's key founders and its newest heir, Empathetic Parts truly embodies the AACM's credo, Great Black Music, Ancient to the Future." — Troy Collins, All About Jazz
"... powerhouse soloing by Mitchell and altoist Greg Ward, rarified zones of tempo-less free improv with Tomeika Reed's plaintive cello or Jason Adasiewicz's chiming vibes as the focus, and swirling collective improvisation toward the conclusion of this artful collision of composition and improvisation..." — Stuart Kremsky, IAJRC Journal
More Information...
Press Release — 482 Music
Mike Reed main page at 482music.com
Copyright © 2023 482 Music