Matt Ulery: Loom: Flora. Fauna. Fervor.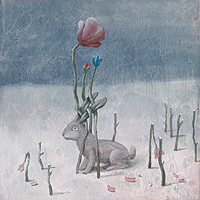 year: 2011 | cat#: 482-1072
Tracks
| | |
| --- | --- |
| 1. | Great Full - mp3 sample |
| 2. | The Queen |
| 3. | When I Think of You |
| 4. | Shadow Ballerina |
| 5. | High City / Low City |
| 6. | A Winds A Blowin |
The second album by Matt Ulery's Loom fulfills the desire of its leader to front a "band with a sound not only determined by the compositions and the instrumentation, but with the actual players who perform the music." Ulery, a Chicago-based bassist and composer, adds, "This is why Loom has had an immediately identifiable sound, striving for maximum range of emotional depth while appealing far beyond strictly jazz listeners."
Loom projects a sonically rich, expansive sound on Flora. Fauna. Fervor. that fully utilizes the creative abilities of each musician. The album is initially being released on vinyl only, with a digital release to follow. The LP contains a coupon for a free download of the entire album plus two bonus tracks.
Matt Ulery is a Chicago-based bassist and composer performing since the age of 14 years. He has played many styles of music, including the entire spectrum of jazz, classical, rock, pop, gospel, theatre, and folk– specifically American, South American, Balkan, and other European folk styles. He has performed not only on upright and electric bass, but has doubled on tuba and keyboards.
Ulery earned his bachelors degree in music composition at The Chicago College of Performing Arts at Roosevelt University and has played in bands with Kurt Rosenwinkel, Jarek Bester, Fareed Haque, Howard Levy, Patricia Barber, Ron Perrillo, Jeff Parker, Zach Brock, and many others.
When not touring parts of the U.S. and Europe with his groups, Matt appears regularly in the Chicago area music venues, and has performed at prestigious venues such as Carnegie Hall, Chicago Orchestra Hall, Millennium Park Pritzker Pavilion, and countless other fine music listening rooms.
Musicians: Zach Brock (violin), Rob Clearfield (accordion, electric piano), Jon Deitemyer (drums), Thad Franklin (trumpet and flugelhorn), Tim Haldeman (tenor saxophone), Matt Ulery (double bass), Katie Wiegman (vibraphone)
"One of the most rewarding events on the recent Chicago jazz scene has been the emergence as a composer of talented young bassist Matt Ulery. His Loom project released one of our top-ten albums of 2007... the incredible "Great Full" [is] one of Ulery's best songs yet and one of the best songs to come out of 2010" — Brad Walseth, JazzChicago.net
"Cycling riffs, raw power, ambient energy, atmospheric spaces and deep grooves..." — Dan Bilawsky, All About Jazz
"A Chicago instrumentalist with jazz chops and a jazzy resume goes the Hideout malcontent route by releasing his second album on vinyl and download only. Located somewhere in that place where ECM meets right of center new age, Ulery and his pals probably won\'t be giving up their high profile day jobs but they have found an outlet for that avant late night jazz that faux hipsters will never get." — Chris Spector, MidwestRecord.com
"From the tinkling opening notes of its new album Flora. Fauna. Fervor., played on Wurlitzer piano, you know you're in for a different experience... A frighteningly versatile bassist who is equally at home with vocal jazz (he's singer Grazyna Auguscik's music director), Balkan experimentation (he's a member of Eastern Block with guitarist Goran Ivanovic), South American folk and Steve Reichian minimalism, Ulery is a young master of texture and atmosphere - and timing. Ulery also is schooled in the art of drawing fresh emotion from unusual instrumental blends. Loom... is a band of steadily shifting focus. Each of the musicians has a say in the ebb and flow of the music. In the end, you may not know what to call it. But you'll be so happily lost in it, that won't matter." — Jazz Institute of Chicago
More Information...
Matt Ulery main page at 482music.com
Copyright © 2023 482 Music