Mike Reed: People Places and Things: Stories and Negotiations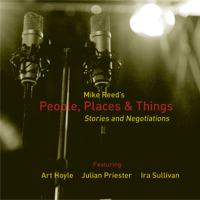 year: 2010 | cat#: 482-1070
Tracks
| | |
| --- | --- |
| 1. | Song of a Star |
| 2. | Third Option |
| 3. | El is a Sound of Joy |
| 4. | Wilbur's Tune |
| 5. | The And of 2 |
| 6. | Door #1 |
| 7. | Urnack |
| 8. | Lost and Found |
"Editors' Picks, March 1, 2010" - Downbeat
"Top 10 Jazz Albums, 2010" - NPR
Recorded live in Chicago's Millennium Park in summer 2008, Stories and Negotiations is the latest installment in drummer/composer Mike Reed's People, Places and Things project. Commissioned by The Jazz Institute's "Made in Chicago" series, it completes a trilogy of recordings devoted to a remarkable - but often overlooked - era in Chicago music: the years between 1954 and 1960, when the jam-session culture of the city's hard bop scene began to seed the collective avant-garde of the AACM and everything that followed.
Reed convened his working quartet, which features saxophonist Greg Ward, tenor saxophonist Tim Haldeman and bassist Jason Roebke, and invited frequent guest trombonist Jeb Bishop back to the bandstand. But for this album, he also solicited the horns of three jazz masters whose playing and personalities defined the late '50s in Chicago: Art Hoyle, Julian Priester and Ira Sullivan. The ensemble engages a set of vintage tunes - including Priester's "Urnack," John Jenkins' "Song of a Star," Clifford Jordan's "Lost and Found," Wilbur Campbell's "Wilbur's Tune," and Sun Ra's "El is a Sound of Joy" - in new arrangements, as well as original pieces composed by Reed and Ward and dedicated to each of their honored guests.
"Priester probably has the largest accomplishments as a sideman, he's on a zillion records," Reed says of the 74-year-old trombonist, who was (along with trumpet and flugelhorn player Hoyle) part of Sun Ra's Chicago-based big bands of the mid-to-late 1950s, and has played with everyone from Duke Ellington to Sunn O))). Back in the day, now 78-year-old tenor saxophonist Sullivan "was maybe the biggest name, recording dates in 1956-57 as a leader, being asked to be in the Jazz Messengers, being asked to do things with Miles and turning it down. He's incredibly important." Hoyle, who is in his mid-70s, took an opposite track. "He was in the Sun Ra band, the Lionel Hampton band, but by the mid-`60s he said, 'I'm gonna stay in Chicago and be a studio musician, a working club musician.' He was one of the musicians who broke the color barrier for the CBS Orchestra."
Shaped by Reed's powerfully organic concept for the band, the concert versions of older material are instantly distinct from their original iterations. "We were trying to really figure out how to bring some modern edges to this old music," the drummer says. "Obviously, the idea of there being some kind of chordal instrument or harmony is out, so we've jumped from 1956 to 1966. There's more of an Ornette-ish influence. Structure-wise, some of the music is rewritten. Not so much on the octet stuff, where we're faithful to the material but definitely not in form. We'd move things around because we'd want the arrangements to work in a different way: maybe there's a more dramatic build up, or we'd get away from the 32-bar form. We recreated forms, completely adding something that is not a piece of the tune at all."
A man for all seasons, Reed is an important player in Chicago's eclectic, genre-blurring music scene. He also leads the improvising quintet Loose Assembly and has recorded a series of experimental duets with several of other luminaries such as Nicole Mitchell and Jim Baker. As an organizer and promoter, his marquee gig is booking the annual Pitchfork Music Festival, the most open-eared indie-rock conclave in the United States.
With that kind of attitude, Stories and Negotiations could never be conceived as some predictable old tribute record.
Reed composed the originals not with the idea of emulating hard bop, because he's not that kind of a writer. Instead, he notes, there might be "a nebulous building into time, and some points where there's not a meter that happens until someone wants to bring in the beginning of the tune. It was fresh for us, and a challenge for those guys to deal with something a little bit different."
Even though the generations span a half-century of Chicago jazz, the chemistry is abundantly evident. As jazz writer Larry Kart observes in his liner notes, listeners can hear this displayed in endless facets. Among them, he cites "Hoyle's story-telling taste for oblique quotation (a sequin from the dress of 'Satin Doll' on his 'Third Option' solo, fragments from 'Moody's Mood for Love' and 'Joshua Fit the Battle of Jericho' on `Door #1,' 'Little Rootie Tootie' on 'Lost and Found') ? the orchestral contrast between Bishop's earthy-burry tone and his forging-ever-onward lines and Priester's otherworldly airiness of timbre and his pensive agility. Sullivan's deep, warm swing probably goes without saying, but listen to the commitment he brings to his ensemble work on 'Song of a Star' (when he, Hoyle, and Priester sweep in beneath Bishop, Ward, and Haldeman) and 'El is a Sound of Joy.'"
"The main connection that unifies the players is the sense of vitality in the music," Reed says, pulling all the elements into a perspective that serves him well as the current vice-chair of the Association for the Advancement of Creative Music. "The hard bop sound of the '50s time period was as cutting edge as anything that we're working on today. Trying to reach that sense of edgy performance is what brings everyone together. Stylistic ideas and background may differ, but the common search for creativity is common."
Musicians: Greg Ward (alto saxophone), Tim Haldeman (tenor saxophone), Jason Roebke (bass), Mike Reed (drums) with Art Hoyle (trumpet, flugehorn), Ira Sullivan (tenor saxophone), Julian Priester (trombone), Jeb Bishop (trombonoe)
"Editors' Picks, March 1, 2010
Chicago-based drummer Mike Reed has spent the past few years exploring the significant, and undervalued, compositions from his hometown's jazz history. On this live recording from 2008, Reed augments his regular group of exciting contemporary players with some of the great Windy City musicians from the '50s, including trumpeter Art Hoyle, trombonist Julian Priester and saxophonist Ira Sullivan." — Aaron Cohen, Downbeat
"...the band wails." — David DuPont, Cadence
"...simultaneously celebratory and serious as the music revels in the intersection of serious swing and the improvisatory freedom that has always characterized Chicago jazz. Great fun - seriously recommended." — Stuart Kremsky, IAJRC Journal
"...takes late '50s tunes (and Reed's charts) and works them over with modern, casually audacious language. In all, eight musicians were on stage: The arrangements take advantage of their quantity, while the solos benefit from their quality. This disc is third in a trilogy of PP&T records; all were so taut, so unpretentiously joyous, that a fourth is already on the way." — Patrick Jarenwattananon, NPR
"There is not a name yet for what Mike Reed does on drums..." — Gordon Marshall, All About Jazz
"As satisfying as the previous two entries in Reed's auspicious series are, it's this final one that earns the encomium pick of the three." — Derek Taylor, Master of a Small House
"...opens with some free-form exchange between the younger players that would likely have gotten them booted off any bandstand in the 1950s. More planful harmonies insinuate into the conversation, then after two and a half minutes they pull together on a dime and launch into Jenkins' "Song of a Star." Roebke's virile pulse and Reed's dancing brushwork encompass the power and agility of hard bop grooving; the solos, most notably by Bishop, are faithful to the idiom\'s swing-over-all imperative and loads of fun... this stuff is a blast." — Bill Meyer, Dusted
More Information...
Winter Jazzfest 2010 — All About Jazz - New York
Cadence review — Cadence
US Booking: Red Ryder Entertainment
Mike Reed main page at 482music.com
Copyright © 2023 482 Music