Tyshawn Sorey: Koan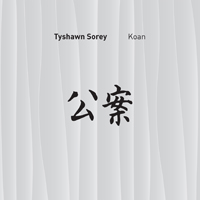 year: 2009 | cat#: 482-1069
Top Ten Jazz albums 2009 - NPR Music
Top Ten Jazz Albums 2009 - Time Out Chicago
Top Ten Jazz Albums 2009 - Destination Out
2009 Jazz Critic's Poll - Village Voice
.
> This title is now available on vinyl...

.
> This release is currently out of print... we do have a few cds not in packaging... the complete liner notes appear below..
.
Koan continues along unconventional trails blazed by Sorey's Firehouse 12 debut, That/Not, but does not rehash formulae. On these six new compositions, rigor and open-form improvisation blend to create sound worlds of intense power and hauntingly spare beauty.
From 1998 to 2000, Sorey studied composition and ensemble playing with pianist/composer Michele Rosewoman. Her guidance helped to shape the way he now approaches his instrument and musical structure.. "I felt very comfortable playing her music, because she was composing using elements I was reaching for; she also encouraged me to use the entire drum kit as a means of keeping time, to take chances. She taught me both musicianship AND musicality." Drummers Billy Hart and Kenny Washington also encouraged Sorey, providing feedback and criticism at a formative moment. On the classical front, he studied with composer/performers John Link and Anton Vishio at William Patterson University, and his interaction with them furthered his immersion in the music of Arnold Schönberg, John Cage, Karlheinz Stockhausen and Morton Feldman, with whose work Sorey feels a deep connection. And at that time, he was digging into the music of Charles Mingus and Wayne Shorter, as well as elements of nature, Zen, and musics from other cultures. His associations with pianist and composer Vijay Iyer, first documented on Blood Sutra, would lead to his participation in the stellar trio Fieldwork, and open the door for his debut as a leader, That/Not.
The music on Koan demonstrates huge advances in Sorey's compositional thinking and execution. "I abandoned all systems on this record," states Sorey. "Some of my earlier compositions used dodecaphonic methods and principles, but while I did select some of the pitch material for this release, there are no specific systems guiding form and structure." Yet, the Feldman-esque minimalist approach he has explored dominates these new trio recordings, both in terms of construction and playing style. There is a sense of restraint throughout, but that does not mean energy is lacking. On the contrary, each tune, each note, is suffused with meaning and purpose to the point that sounds leap from the speakers, but there is often silence left to reflect on each gesture. Even the most traditional track, "Embed," eschews conventional time and rhythm while its gorgeous harmonic progression glides along. Todd Neufeld's masterly playing brings life to the chords as they unfold over Thomas Morgan's strident but circumspect bass tones. Conversely, there are the staggering rhythmic complexities of "Awakening," one of several tracks based on the use of layered rhythmic cycles. When asked about how one should hear the piece, Sorey says "the tune's mostly written in 4/4 time, but it's not really in any time - depending on how you hear it;" the listener would never know it as each musician follows a path of cycles that converge at key moments, creating slowly morphing tapestries of timbre and harmony. Equally fascinating is the track "Only One Sky", composed during the post-production stages. "The material came from an outtake of the introduction to 'Embed'," explains Sorey. "After having listened to it repeatedly, I grew to see it as an indispensable part of the album's macrostructure."
While it exudes an air of gentleness, this is not music for the faint of heart. It is also not to be absorbed in one sitting. Each listening exposes fresh details, both musical and timbral, and these lead to new appreciation of the larger canvases on which these sound paintings reside.
.
Liner Notes to the cd:
"If you understand 'it' all things are One; if you do not, they are different and separate. If you do not understand 'it', all things are One; if you do, they are different and separate." - Wu-men Hui-k'ai (1183 - 1260)

This CD represents my attempt to illustrate further my relationship to time, sound, and space. The music herein is based on various degrees of form and open improvisation, both of which are utilized to an equal extent. Much of the music here is very slow and it is suggested that the music be listened to as a suite. Essentially, as I do in most of my compositions, I am interested in exploring the myriad of ways we perceive multiple notions of time (strata) that occur simultaneously, as well as our perception of multiple events that may "sound" the same while having a heteronymous relationship to one another. We hope that this music speaks to you in some way or another.

-Tyshawn Sorey


1. Awakening
2. Only One Sky*
3. Correct Truth
4. Nocturnal
5. Two Guitars
6. Embed

All songs are composed by Tyshawn Sorey except *, by Todd Neufeld and Tyshawn Sorey

Todd Neufeld - electric and acoustic guitar
Thomas Morgan - bass, acoustic guitar
Tyshawn Sorey - drums and cymbals

Recorded on May 8, 2009 at Systems Two Studio in Brooklyn, NY by Richard Lamb. Mixed and Mastered on May 26 and June 11 at Systems Two Studio in Brooklyn, NY by Mike Marciano.

Thanks to:
Aaron Stewart, Cory Smythe, Fay Victor, Peter Jarvis, Steve Lehman, Jen Shyu, Sara Serpa, Vijay Iyer, Anton Vishio, Ben Gerstein, Kelly Foster, Muhal Richard Abrams, Steve Coleman, Meilana Gillard, Terry McManus, Dan Weiss, Kris Davis, Jesse Elder, Okkyung Lee, Pete Robbins, John Escreet, Ingrid Laubrock, and Angelika Niescier

Special Thanks to:
Todd Neufeld, Thomas Morgan, Richard Lamb, Mike Marciano, Mike Lintner, and Matt Merewitz.
.
Musicians: Thomas Morgan (classical guitar and bass), Todd Neufeld (electric and classical guitars), Tyshawn Sorey (drums)
"Luminous" — Signal to Noise
"Top 25 2009, plus (Trios)" — David R. Adler, Jazzhouse Diaries
"Top 13 2009" — Michael J. West, Jazzhouse Diaries
"Just when you expect this ethereal, free-oriented trio to find an unexpected rhythm, they retreat from the surface, creating fresh, unexpected results at every turn... Sorey is a master of metric modulations, shifting dynamics and lightning fast glances - he's wonderfully responsive and reactive..." — Ken Micallef, DownBeat
"Tony Williams and Jack DeJohnette are legends because of their musicality as well as drum skills. They could do more than timekeeping. Sorey appears to tread a similar path. This substantial work makes him a viable prospect to match their giant steps in the fullness of time." — Kevin Le Gendre, BBC
"Big ups to Tyshawn Sorey, able drummer of Fieldwork with Vijay Iyer and the Steve Lehman Octet. Sorey could crush a drum set with a single stick, but when he records under his own brand, the point of the exercise is more about the overall effect of his compositions than his overwhelming skill at his chosen instrument. Koan is a welcoming exercise in the minimalist aesthetic of sound-printing, and it conveys a quietude that sustains memories as if they're etched along a glacial moraine. In some sections of this recording, the loudest sound you hear is someone breathing; sometimes that someone is you." — Josh Jackson, NPR Music / WBGO
"...last year stood out most prominently as a year of notable jazz records, distinguished not only by their quality and novelty, but by their vast ambitions... Tyshawn Sorey's Koan deserves mention alongside any of these albums..." — Trevor Hunter, New Music Box
"Young avant-garde jazz drummer Tyshawn Sorey's stunning new disc contains little drumming and even less jazz, but plenty of avant-garde. Koan is a minimalist project primarily for guitar and bass that moves slowly and plainly, like a sonic desert landscape; it makes its points with stark texture and in-the-moment harmonies that linger far beyond the moment of creation. Like the Zen mystical element for which the record is named, Koan is a meditative musing that taps into both the brain and the spirit, perplexes both, and mesmerizes them anyway." — Michael J. West, Washington City Paper
"Sorey's open-form material shares a simplicity and sureness of design akin to Bonsai gardening, where every small gesture has larger implications to harmony and aesthetics in general." — Doug Simpson, Audiophile Audition
"There has been music very roughly comparable to this, with one foot in ultra-minimalism and one in the free-jazz performance tradition - like the late-1980s record "News From the Shed," by a consort of British improvisers, including the saxophonist John Butcher - but Mr. Sorey's Koan music otherwise resists characterization, except as slow and quiet..." — Ben Ratliff, The New York Times
"...minimalism slowed down to a ruminative crawl, and it's perhaps like nothing else out there. All of it is rather extraordinary." — Gapplegate music blog
"...hauntingly spare, radiating a gentle beauty where each gesture carries maximum weight..." — Destination Out
"...a very beautiful album that seems to open up a little more each time it's played." — Phil Freeman, All Music Guide
"Forward-looking drummer/composer channels Morton Feldman over a surprisingly spare slab of minimal abstraction..." — Areif Sless-Kitain, Time Out Chicago
"The lentor of the material on Koan is its central characteristic, allowing the beauty of the compositions to be absorbed. It may also present the biggest challenge to listeners who aren't accustomed to the type of performance that is meant to shed light on places where music occurs but where we don't typically look." — About.com
More Information...
Album preview at Destination Out
Improvised Silence Amid the Sounds
Tyshawn Sorey main page at 482music.com
Copyright © 2023 482 Music