Mike Reed: People Places and Things: About Us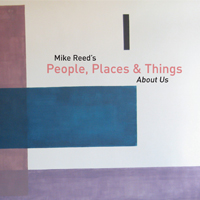 year: 2009 | cat#: 482-1068
Tracks
| | |
| --- | --- |
| 1. | It's Enough |
| 2. | V.S.#1 |
| 3. | About Us |
| 4. | Big and Fine |
| 5. | The Next Time You Are Near |
| 6. | Big Stubby |
| 7. | Flat Companion |
| 8. | First Reading: Paul's Letter |
| 9. | Under the Influence of Lunar Objects |
| 10. | Days Fly By (with Ruby) |
From the liner notes:
The original focus of our quartet was to investigate and reinvent some of the under-recorded, under-recognized aspects of the vibrant Chicago jazz scene circa 1954-60. On Proliferation, we brought ideas and new approaches to music of another time. This second offering is primarily About Us. (A forthcoming third document will bring us full circle; inviting principal players of that past to share in the ideas of today.)
To borrow from both Muhal Richard Abrams and Sun Ra (two of the most significant musicians in the Chicago legacy), numerology isn't lost in the underlying concept here. On Proliferation we created three pieces dedicated to places and people in Chicago of the 50's. On this record About Us, we've invited three important and influential members of Chicago's improvised music community to join in.
I was fortunate enough to perform with David Boykin in his group The Expanse, as well as an improvising trio with bassist Karl Seigfried (later turned quartet with flutist Nicole Mitchell). David may be the most innovative composer walking the streets of Chicago. His boundless energy and tone speak directly to the great Chicago tenor legacy. I'm forever grateful for my musical growth due to being part of his sonic explorations.
Jeb Bishop has established himself as one of the most respected trombonists in the jazz/improvised world. As one of the most ubiquitous figures on the Chicago scene, his big, punchy tone and instinctive sense of melody sets a high standard for a future generation of improvisers.
Although Jeff Parker is one of the most highly regarded musicians in Chicago, his greatness is more than just his musical prowess (I know that seems impossible). When anyone speaks of Jeff they first refer to his unique sound, which can traverse any terrain and is never mistaken. However, Jeff's true gift is an idea: the idea that you can operate in any genre, place, or setting without being mistaken for anything other than your own "sound."
I hope that this second of three records takes us closer to the idea of our own "sound."
Musicians: Greg Ward (alto saxophone), Tim Haldeman (tenor saxophone), Jason Roebke (bass), Mike Reed (drums) with David Boykin (tenor saxophone), Jeb Bishop (trombone), Jeff Parker (guitar)
"Top Ten Jazz Albums, 2009" — Areif Sless-Kitain, Time Out Chicago
"Mike Reed's Front Line: All I know about the Chicago bandleader was that he's made three nifty records that got the NYC community buzzing a bit. This was the first time he had brought his articulate freebop to town. On the stand, it was a best of both worlds kind of thing, where the songs' structures were always in place, while still being constantly pushed and shoved. His People, Places, and Things group boasts a tandem saxophone team of altoist Greg Ward and tenor player Tim Haldeman... I've always loved a two-horn romp, so the way Reed's reeds bobbed and weaved felt great. Ward and Haldeman stepped on each other, too, because they know polyphony is a kick. The set's zenith came during one short moment where the pair were flailing around askew, and in an instant - cue or no cue? - swooped right back into alignment to strike a blow for consolidation. Sweet. - Top Five Moments at WinterJazz Fest 2010" — Lament for a Straight Line
"If About Us was the sort of avant-garde that most people heard first, the genre would be a popular music." — Michael J. West, JazzTimes
"This excellent quartet - drummer and bandleader Mike Reed, bassist Jason Roebke, and saxophonists Greg Ward and Tim Haldeman - began with a clever hook, playing unjustly overlooked postbop tunes written in Chicago during the late 50s. But with their fiery live gigs and last year's superb Proliferation, they quickly proved they were much more than a repertory band. Their forthcoming second album, About Us (482 Music), shifts toward a contemporary repertoire, including material by the band and by three local stalwarts - trombonist Jeb Bishop, saxophonist David Boykin, and guitarist Jeff Parker, each of whom guests on the song he contributes. That said, the sound of People, Places & Things hasn't changed much: it still combines the bluesy brawn of Chicago's postbop past (especially on pieces like "V.S. #1" and Boykin's "Big and Fine") with thoroughly present-day improvisational vocabularies and a whole-band style of interaction that\'s worlds apart from the traditional solo-and-vamp approach. They remain my favorite jazz group in town, and though Haldeman recently moved to Ann Arbor and Ward\'s leaving for New York in the fall, they plan to keep playing. They've also got an octet record on deck, with the core group augmented by Bishop and three Chicago vets who were on the scene in the 50s: Ira Sullivan, Art Hoyle, and Julian Priester." — Peter Margasak, Chicago Reader
"Second in a planned trilogy of releases celebrating Chicago's jazz lineage, About Us turns the page to band originals that celebrate regional tradition without feeling rote or played out... Primed by the beauty and vitality that characterizes the first two outings, it's easy to harbor high hopes for the third." — Derek Taylor, Dusted
"As the ever-expanding Chicago scene continues to grow, more ensembles feature musicians both well-known and new. Drummer Mike Reed has two previous out on 482 Music. Although I am not familiar with saxist Tim Haldeman, I do know their other saxist Gred Ward from his work with Hamid Drake, Charles Rumback and Blink! Bassist Jason Roebke seems even busier with the likes of Fred Lonberg-Holm, Scott Fields, Jeb Bishop and Tigersmilk. Mike Reed wrote half of the pieces on this disc with contributions from the other members & guests of the ensemble. Jason's "It's Enough" kicks things off with a strong, propulsive groove and strong solos from each saxist. Each piece covers a different style or approach, from inside swingers to more rambunctious hard-driving numbers. Mike Reed claims that the original focus of this group is to explore and reinvent aspects of the Chicago scene in the fifties. Hence we get bluesy numbers to spacious ballads to infectious hard boppers. There is something earthy and organic about this date that makes one want to snap their fingers and just feel good. It is nice to hear former Vandermark 5 trombonist Jeb Bishop wailin' on "Big Stubby" as well as those great sax harmonies on the fabulous "Fat Companion". About Us reminds us of just how amazing the vast Chicago scene has become with various streams all rushing into one big river of sound." — Bruce Lee Gallanter, Downtown Music Gallery
"If someone were to ask me, 'What is going on in Chicago jazz today?' I would unhesitatingly refer them to this recording... It is a joy to hear." — Gapplegate music blog
More Information...
Winter Jazzfest 2010 — All About Jazz - New York
Avant-jazz throwdown (CD reviews) — Ottawa Citizen
The Jazz Session with Jason Crane
Mike Reed main page at 482music.com
Copyright © 2023 482 Music