Jason Ajemian: Protest Heaven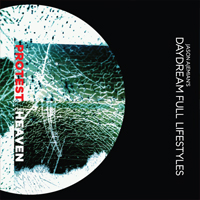 year: 2010 | cat#: 482-1067
Tracks
| | |
| --- | --- |
| 1. | Still Building Your Life on Fear |
| 2. | Your Concrete |
| 3. | Get Mine |
| 4. | Stock Pile |
| 5. | Light Up |
| 6. | No Dark |
| 7. | Let Live |
| 8. | Animal, Big Tree & River Steam |
Buy Online
One afternoon, a teenaged Jason Ajemian was laying carpet at a country music recording studio in the Blue Ridge Mountains. "I saw an upright bass on top of a vocal booth, so I asked the engineer if I could string it up and borrow it." And so he did. There weren't a lot of jazz musicians around his native Virginia, Ajemian explains, so he got into what was at hand. "I did my first playing with my father's old friends: they did folk songs, hillbilly stuff, mountain music. He grew up in an Irish family. His three brothers were all musicians. Whenever I was around them, there was a lot of music happening."
Like Charlie Haden a half-century before him, Ajemian absorbed one batch of American forms - country and bluegrass - on the way to embracing another - jazz and improvised music. The formidable and much-loved New York tenor saxophone player Tony Malaby was the catalyst for the young bassist's transition, mentoring and befriending Ajemian during his first days as a student at Arizona State University. That formative relationship comes full circle on Protest Heaven. This vinyl-only release captures music made on a single evening at the Chicago art gallery Heaven. The performance was the climax of an ongoing series of shows featuring a group assembled from some of the best-known musicians on the city's post-1990s scene: Chicago Underground Duo, Trio, etc., stalwarts Rob Mazurek (trumpet), Chad Taylor (drums) and Jeff Parker (guitar). And the out-of-towner, Mr. Malaby - one of New York City's most valuable players for the last 15 years.
The band is called Daydream Full Lifestyles. The outfit grew out of intense musical relationships that had been evolving for years. Ajemian's history with Taylor and Mazurek began before he arrived in the Midwest in 2000. "I was a huge fan," he says. "I'm really good friends with all of them." Soon enough, he was playing with the pair in the trio, and in Mazurek's Mandarin Movie & Exploding Star Orchestra, and also gigging weekly with Parker.
Ajemian continues: "In 2005 Tony talked to me about putting some music together. Tony was really into the UG guys, as well, and those guys into Tony," The bassist didn't expect his bandmates to insist it be his music. "Oh great," he recalls thinking, laughing. "I'm a little younger and these guys are pretty well-established. And I'm trying to figure out how to get enough work (on my own name) to keep it afloat."
If Ajemian had any insecurities about the validity of the concept, or the power of the improvised sounds that the musicians make, they don't show on these eight tracks, selected and edited from a live recording that ran over an hour. The music's open flow, spontaneous dynamic and intimate spirals of thought and passion are the very core of what improvisation is all about. And when the players are of this caliber, inspired moments abound as a product of collective process and individual spark.
There's a method here. The songs, with impressionistic titles like "Animal, Big Tree & River Steam," and "No Dark," come together as what Ajemian calls "breath process music." He explains: "Instead of music composed to a time signature or external clock, this is timed to each performer's internal clock. Everyone plays along to their own breath patterns. It's a chance operation. You compose music so it can fit into any overlapping of people's breath patterns."
Ajemian has been doing this a lot. "Getting with these guys was my first attempt to take it to jazz spectrum. There's this quality that at any moment someone can think about his breath more than they think about where he is in the music, and move the music that way. At any moment, we can teleport where someone focuses on his breath and go inside instead of outside."
"I'm not putting out a jazz record that sounds like the next jazz record," Ajemian says. "Some things I do are heavily improvised, some are conceptual big band music. My thing is more about concepts. How is this thing gonna sound? It sounds like this but you arrange it a little more like that. The beautiful thing about it is we're all improvisers, so we know how to get into things. It causes this constant catalyst of motion."
*
In January of 2002 I started a music series at Heaven Gallery in Chicago. At the time I was trying to wrap my head around my country's reaction to war, combating religious fanaticism with religious fanaticism and patriotism. I find religion, faith and the belief in something bigger than this life quite valuable, but I was searching to understand at what point we let our beliefs become destructive. Our religious affiliations are often geographical, environmental, coming from what we wish to be true, affirming what we want to believe. Like sports fans who hate the team from across the way, or people who can only relate to certain geographic styles or genres of music. So I called the series Protest Heaven and found it fitting in some fashion. A call to self-reflect and to recognize that the only idea we can truly have of heaven is what we believe, and/or wish it to be. For we cannot step outside this life or universe to have any objective knowledge of a life beyond. I consider this trust in our beliefs or this closing of our minds to our beliefs to be the point at which they become destructive to this life and our existence. So when it came time to edit a one hour and ten minute continuous improvised set of music into a forty-four minute album, I wanted to conceptually draw some parallels to these ideas that spawned the series. Instead of trying to edit the set into a compositional continuum with arc and story, I wanted to represent a mind's attention span or focus. How it can turn on a dime and teleport from the present moment to the future, past, worry, ideas, dreams, fantasy etc. ...as if we were listening to the live set on a record and picking the needle up and placing it down at different points. Or more conceptually, as music and heaven exist and are playing all the time, all we have to do is put the needle down or tap into it. As listeners, our minds work like that as well - the continuum of all things gets broken up by our minds' abrupt wandering to different aspects of life. I wanted to think about it as a listener's possible experience of attention span coming in and out. I made hard edits into focused blocks of sound and took out the roads on which we arrived or traveled further. I guess in some ways I was attempting to metaphorically express my own ideas. Heaven and music exist, and we have a choice to experience that joy with every breath if we do not try to control it with our beliefs but rather allow it through some sort of faith. To me it doesn't seem a matter of getting there, as much as simply being there.
- Ajemian, November 2009
Musicians: Jason Ajemian (bass), Tony Malaby (tenor saxophone), Rob Mazurek (cornet), Jeff Parker (guitar), Chad Taylor (drums)
"'Protest Heaven' refers to when the faith in religion turns destructive. Although this music is mainly improvised, Jason has edited it down to a more focused work that tries to capture certain ideas that he was contemplating. I dig that Jason has chosen sections when the improvisations come together and something interesting occurs, not solos per se but interconnections and successful interaction. This is a mixed crew with members from Chicago (Mazurek & Parker) and players from NY (Malaby & Taylor) plus Jason has moved here recently as well. There is a great section where Rob's cornet, Jeff's guitar & Tony's tenor spin out those jazz lines around one another furiously. Once again, the warmth of vinyl makes this sound even better like sitting right in front of the band as they are playing. Moving from somber moments to more explosive sections, this quintet sounds inspired and focused throughout. Malaby's tenor erupts on Side 2 while Rob's cornet & Jeff's guitar swirl around him more calmly. At times it seems as if there are a couple of subgroups playing simultaneously, each one connecting on different levels while the tempo increases or decreases. If true freedom was the real religion of today, then this disc exemplifies what it means to be connected but not controlled. Completely solid jackson!" — Bruce Gallanter, Downtown Music Gallery
"...a staggering performance by five stellar musicians. Free jazz at its best : expressive, innovative, joint creativity, instant composing, and first and foremost a great listening experience. Don't miss it." — Free Jazz
"...here comes some good stuff, finally lined up with a company who's working with a ton of abstract & improv musicians..." — Sonic Dissonance
"The music, although improvised, has a choreographed texture. That's attributable to the players, whose purpose is to make music. Grandstanding is not heard here." — All About Jazz
More Information...
Jason Ajemian main page at 482music.com
Copyright © 2023 482 Music