Chad Taylor: Circle Down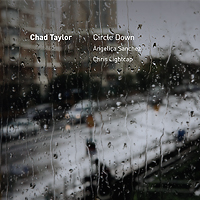 year: 2009 | cat#: 482-1065
Tracks
| | |
| --- | --- |
| 1. | Box Step |
| 2. | Specifica |
| 3. | Rock |
| 4. | Traipse |
| 5. | No Brainer |
| 6. | Opal |
| 7. | Level |
| 8. | Miriam |
| 9. | Pablo |
| 10. | Pascal |
Top Ten Jazz Albums, 2009 - Areif Sless-Kitain, Time Out Chicago
Top Ten Jazz Albums, 2009 - Hank Shteamer, Jazzhouse Diaries
The debut album by Chad Taylor's New York-based trio, including pianist Angelica Sanchez and bassist Chris Lightcap. Taylor's recent experiences encompass the most fruitful of jazz and indie rock's intersections, finding him with everyone from Spiritual Unity to Iron and Wine, but this trio session sees him returning to his acoustic roots. Both Sanchez and Lightcap contribute compositions to Circle Down, but the majority are Taylor's. The music is far removed from his work with the various groups comprising the Chicago Underground aggregate, much of it being quite delicate and transparent.
Musicians: Chris Lightcap (bass), Angelica Sanchez (piano), Chad Taylor (drums)
"Top 25 2009, plus (Trios)" — David R. Adler, Jazzhouse Diaries
"...this is not your typical jazz piano trio since they play no standards, consistently change directions and move in unexpected ways. Just when you think you have a handle on what they do, they are off and confounding all expectations. Another gem from the fine folks at 482 Music." — Bruce Lee Gallanter, Downtown Music Gallery
"...an exquisitely balanced collective statement, encompassing knotty Latin jazz, rainy-day musings and sly compositional elegance..." — Hank Shteamer, Time Out New York
"...his most accessible recording to date, leading a spectacular trio" — Mark F. Turner, All About Jazz
"A fare la differenza, un superbo trio che ha personalità da vendere, nel proporre solo proprie composizioni originali. Un disco da acquistare ed un gruppo da seguire con attenzione..." — All About Jazz Italia
"Chad Taylor's Circle Down trio with pianist Angelica Sanchez and bassist Chris Lightcap stake out their place in the piano trio tradition... This is a trio that knows how to exploit the tension between individual and collective that fuels so much of the drama in improvisation. And they use that inner dynamic to make extraordinarily beautiful music." — Ed Hazell, Point of Departure
"The music remains centered on no single player. Its center slides, taking in the deep tone of Lightcap\'s bass and each of the multiple spinning plates they set in motion. All deeply moving and impressive." — Mark Corroto, All About Jazz
"...A dynamic and refined session featuring the stellar interplay of an empathetic trio, Circle Down is Taylor\'s most sophisticated work to date." — Troy Collins, All About Jazz
"Wonderfully warm work from drummer Chad Taylor -- a set that really unlocks a lyricism that\'s always lingered in his music -- but which never came to the forefront quite so strongly before! The album\'s a trio effort -- with Angelica Sanchez on piano and Chris Lightcap on bass -- and it bubbles along with a beautiful sort of energy -- almost reminding us of 60s magic from pianists like Don Friedman or Steve Kuhn -- modern, yet never too much so -- always with a sense of poetry, and a strong undercurrent of humanity. Taylor\'s inherent swing comes into play strongly, even in subtle moments" — Dusty Groove America
"Circle Down takes a few listens for the elusive beauty and structural integrity of the 10 tracks to sink in... the album is split in two: Sanchez\'s and Lightcap\'s charts are sequenced first, while Taylor\'s compositions fill the second half. Lightcap\'s \"Specifica\" and Sanchez\'s \"No Brainer\" spark the most heated interplay, yielding to the grace of Taylor\'s ballads \"Opal\" and \"Miriam,\" the broken-up misterioso figures of \"Level,\" the quasi-calypso jaunt of \"Pablo\" and the turbulent bounce of the closing \"Pascal.\" It could be that the Circle Down trio is a cousin to Sticks & Stones, Taylor\'s co-led unit with Matana Roberts and Josh Abrams, although Sanchez gives this new material a broader harmonic signature - meticulously voiced, precise yet impulsive." — David Adler, All About Jazz New York
"...one of the most interesting piano, bass and drum trios I have heard in a while. While Taylor is nominally the leader, the three voices have equal status and work well together to make consistently original and interesting music." — Tim Niland, Music and More
"Former Chicagoan turns in a fierce trio record, fleshed out by lyrical pianist Angelica Sanchez." — Areif Sless-Kitain, Time Out Chicago
More Information...
A Trio of Avant-Jazz Piano Trios [excerpt] — Ottawa Citizen
Chad Taylor main page at 482music.com
Copyright © 2023 482 Music