Dave Rempis / Frank Rosaly: Cyrillic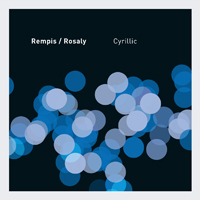 year: 2009 | cat#: 482-1064
Tracks
| | |
| --- | --- |
| 1. | Antiphony |
| 2. | Tainos |
| 3. | Thief of Sleep |
| 4. | How to Cross When Bridges are Out |
| 5. | Still Will |
| 6. | Don't Trade Here |
| 7. | In Plain Sight |
Improvisations from two of Chicago's busiest jazz musicians. The duo build their sound on the unique playing relationship they share, without relying upon written material or any given licks to propel the music. Over the course of the album, listeners bear witness to the profound connection that exists between these two versatile musicians who have been working together regularly in numerous contexts for the past seven years.
Musicians: Dave Rempis (alto/tenor/baritone saxophones), Frank Rosaly (drums)
"..like Vandermark/Nilssen-Love but more together." — Tom Hull, Time Out NY
"The duo of saxophonist Dave Rempis and drummer Frank Rosaly come roaring out of Chicago with a muscular exercise in free jazz. Rempis has a beautiful tone, whether on alto, tenor or baritone, and Rosaly is a perfect partner for him, sometimes pushing Rempis, sometimes providing splashes of colour to add emotional depth, as on the lovely "Thief of Sleep". Their work together never sounds forced, even on "How to Cross When the Bridges Are Out", on which they go through a series of moods in a 16-minute tour-de-force." — Mike Chamberlain, hour.ca
"Because saxophonist Dave Rempis and drummer Frank Rosaly are half of the splendid Rempis Percussion Quartet, you might imagine you'd only get half as much music from just the two of them. But the duo format actually affords them more freedom to explore divergent styles and dynamic extremes than they have in the RPQ. "Still Will," from their forthcoming debut CD, Cyrillic (482 Music), starts out so quiet it\'s barely there, slowly building from tiny rustles and low moans to startling, emphatic cries. On "In Plain Sight," Rempis casts out bobbing, bebop-inspired baritone phrases over Rosaly's shuffling snare beats, then reels in an exquisite sliver of a ballad. And on the album's epic centerpiece, "How to Cross When Bridges Are Out," the two men sustain a circuitous, mutually challenging dialogue of discrete gestures, darting feints, and blistering energy vectors for more than 15 minutes. Though Cyrillic won't be officially released until January, the duo will have copies for sale at this record-release show, which is also the first date of a two-week tour." — Bill Meyer, Chicago Reader Critic's Choice
"Rempis and Rosaly's studied interplay lends even the most threadbare of skeletal themes a sense of foresight, making this fully improvised session one of the more concise and cohesive dates of its kind..." — Troy Collins, All About Jazz
"Rempis is a rhythmically astute player... blessed with split-second reflexes and command of melodic improvisation that allows for high speed thematic extemporization" — Derek Taylor, Master of a Small House
"Halve the number of players and double the performance intensity for Cyrillic. Completely improvised, the selections include those with cymbal-chiming funk grooves, replete with honking reed patterns plus others featuring smeared double-tonguing from Rempis, where he never seems to stop for breath, matched with rim shots and side spanks from Rosaly. Most impressive are "In Plain Sight" and "How to Cross When Bridges are Out". The former, which could be a deconstructed classic R&B line, gains its rhythmic impetus from Rempis' guttural baritone saxophone snorts. The later is like a face off between never-ending ratcheting, rolls and ruffs from Rosaly's Energizer Bunny-like drumming and Rempis' Eric Dolphyish-alto saxophone with its broken-octave staccato runs and wide split tones. Changing the the agitato tempo to andante, the tune slips into uncharted aleatory territory, echoing with excitement and abandon." — Ken Waxman, JazzWord
More Information...
Concertizing — Boston Phoenix
Cyrillic — Master of a Small House
Dave Rempis / Frank Rosaly main page at 482music.com
Copyright © 2023 482 Music