Mike Reed: Loose Assembly: Speed of Change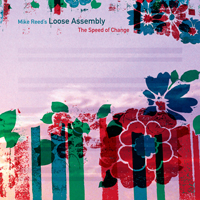 year: 2008 | cat#: 482-1062
Tracks
| | |
| --- | --- |
| 1. | The Speed of Change |
| 2. | Garvey's Ghost |
| 3. | Ground Swell |
| 4. | Tezetaye Antchi Lidj |
| 5. | "X" |
| 6. | Soul Stirrer |
| 7. | Exit Strategy |
| 8. | Picking Up Greta |
The sophomore release by Loose Assembly. The band continues its evolution by working through a balance of composition and instant composing. In addition to Reed's tunes and the improvised pieces, the group covers "Tezetayé Antchi Lidj (Baby, My Unforgettable Remembrance)" by the Ethiopian vibraphonist Mulatu Astatqe, and Max Roach's "Garvey's Ghost". With great ease the group moves through sonic pastoral explorations to edgy post bop and even Chicago post-rock influences. Reed says, "In the end I guess I'm still thinking about the early AACM bands like Air, as templates for what is possible."
Musicians: Nicole Mitchell (flute, voice), Josh Abrams (bass), Jason Adasiewicz (vibraphone), Mike Reed (drums & percussion), Tomeka Reid (cello), Greg Ward (alto saxophone)
"A record whose rewards are bountiful even some dozen listens into it; this is a strong contender for jazz platter of the year. (Expect coverage of the equally stellar Proliferation soon.)" — floodwatchmusic.com
"****
Since the 1980's, merely paying tribute to history has become one of the worst blemishes on jazz recording; you could tile your bathroom with dreary, uninspired records that aim to honor Miles...Coltrane...Monk... and so on, which nail the notes but miss the spirit by a country mile. Chicago drummer Mike Reed leads two bands that deal with the past and get it right. Not only have he and his cohorts done their homework by learning the idioms and ideas... they've worked to reconcile what they've learned with their knowledge of contemporary ways. These ensembles don't simply re-create; they create." — Bill Meyer, DownBeat
"The group's performance is impressive - like the source material, it communicates a stark political edge without words - but the choice in repertory is impeccable. "Garvey's Ghost," from Roach's 1961 album Percussion Bitter Sweet, is the kind of underused gem that's neither standard nor overtly obscure - a dead-on pick by a genuine musical bon vivant." — Evan Haga, NPR
"Despite its unusual lineup, Loose Assembly is one of Reed's more regular outlets and, accordingly, has a bubbling, organic chemistry. On its second album, the Assembly breezes through music as diverse as a cover of Ethiopian vibraphonist Mulatu Astatqe (airy and light, with a chugging Afro-Asian groove) and vaguely blues-drenched meditations, such as Reed's "Picking Up Greta."" — Matthew Lurie, Time Out Chicago
"...features Reed joined by four of Chicago's most impressive young musicians. Adasiewicz's shimmering vibes and Reid's sonorous cello lend an effervescent aura to the session's stately air, while Ward alternates pugnacious intervals with keening lyricism. Abrams' sinewy, rooted bass and the leader's carefree, yet nuanced polyrhythms provide an elastic undercurrent that veers from painterly rubato accents to intricate time signatures. An exceptional percussionist, Reed provides unwavering forward momentum even while engaged in pithy call-and-response with soloists." — Troy Collins, AllAboutJazz.com
"... Max Roach's "Garvey's Ghost" is given an atmospheric, free-flowing air, punctuated by the beautiful scrapings of cellist Reid, the careful vibes of Adasiewicz, and a strong melodic solo by Ward. The group also brings depth of expression to a tune by Ethiopian legend Mulatu Astatke... But Reed's original material shows plenty of strength as well.. "Soul Stirrer," which with Reed's tom-tom underpinnings and Adasiewicz's ringing tones recalls Martin Denny's jungle-laden exotica mixed with a more laid-back Coltrane ... And "Exit Strategy," with a dissonant head that Ward collapses and transforms into fiery runs while Reed swings furiously in the background and bassist Josh Abrams takes a Mingus-like turn, would be impressive even in the hands of a band of seasoned European players." — Manny Theiner, the Pittsburgh Post-Gazette
"Neither furious nor frenetic, The Speed of Change challenges jazz listeners\' assumptions about time, timbre, and texture via oft-dreamy tempos... [the players] sustain an absorbing collective tension... these remarkable sessions open fresh musical vistas and deliver the palpable thrill of liberation from preconceptions." — Derk Richardson, The Absolute Sound
More Information...
Proliferation / The Speed of Change — Cadence
Doubled Up — JazzTimes
For the Record — Pittsburgh Post-Gazette
Mike Reed main page at 482music.com
Copyright © 2023 482 Music