Paul Giallorenzo: Get In to Go Out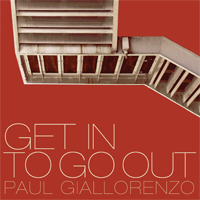 year: 2009 | cat#: 482-1061
Tracks
| | |
| --- | --- |
| 1. | Vacillation |
| 2. | Twisted Lopes |
| 3. | Porous |
| 4. | Fifth Flow |
| 5. | Steamin in Cleveland |
| 6. | Crazy Ladies |
| 7. | Ajemian's Funk |
| 8. | Double Team |
| 9. | Eternal Circle |
This high-voltage aggregate features Giallorenzo's alternately fiery and contemplative pianism in the company of saxophonist Dave Rempis, cornetist Josh Berman, bassist Anton Hatwich and Frank Rosaly on drums. Get In to Go Out presents controlled fire music born of an homage to experimental jazz of the late 1950s and blazing trails into territory illuminated by the music's pioneers.
Musicians: Josh Berman (cornet), Paul Giallorenzo (piano), Anton Hatwich (double bass), Dave Rempis (saxophones), Frank Rosaly (drums)
"Top Ten 2009, Chicago Jazz ... they skip back and forth across the line that separates tonal music from more freedom-loving improvisation, in ways that might have made such stylistic forbears as Charles Mingus, Jackie McLean, Paul Bley, and Eric Dolphy awfully proud. The music is inviting but edgy, impassioned but in control, and often absolutely irresistible..." — Neil Tesser, examiner.com
"... a terrific quintet playing nine impressive original tunes... Giallorenzo's key inspirations go back five decades, but the way he evokes Thelonious Monk, Herbie Nichols, and particularly early Cecil Taylor doesn't sound the last bit dated. The spry arrangements are packed with tricky zigzagging lines and tart harmonies, and a swing feel dominates, though the compositions are hardly square or retro; this pushes the front-line players toward postbop gambits we don't always hear in their own work. There's plenty of solo space for each member, but I think Giallorenzo makes the most of his time--probably because he knows the tunes more intimately. He also does a terrific job vamping and making provocative interjections behind other soloists... the music is superb." — Peter Margasak, Chicago Reader
"Wow, this is a mighty fine band of Chicago's best. Mr. Giallorenzo's writing just keeps getting better. Infectious energy, swinging in part with some excellent solos from the piano and horns make this another gem. The past and the present combined into this marvelous offering." — Bruce Lee Gallanter - DMG
"... a fully formed compositional voice and group approach on his new and (first?) release as a leader... From the patient outset of "Vacillation" to the Monkesque quirk and bounce of "Twisted Lopes", Giallorenzo has created an impressive batch of music with impressive depth and breadth. The album title is certainly fitting, as this is an inside/out affair with healthy doses of melody, composition, textural and timbral exploration..." — soundslope.com
"Chicago pianist/composer Paul Giallorenzo leads his quintet through nine compositions that are clearly in the post-bop continuum but draw freely from traditions of free jazz and free improv. As a pianist, Giallorenzo fuses Thelonious Monk's penchant for close harmonies with Bud Powell's clarity of attack... This is rich, deep music that heralds the arrival of a gifted composer." — Mike Chamberlain, hour.ca
"Giallorenzo locates the jazz he makes with his quintet somewhere in the early 1960s, when post-bop was getting ready to explode into free jazz and its pioneers were rooted in swing, but thinking outward thoughts... the sound on Get In To Get Out hints at a Blue Note session, with its large room echoey sounds and warm groove. New York native Giallorenzo practices his craft in Chicago, the cliché-free home of arguably the most creative jazz scene in the country..." — Mark Corroto, AllAboutJazz.com
"Giallorenzo plays in a piano style that has something to do with early Cecil Taylor, in that it is simultaneously free, swinging and gives a nod to bop and after... His compositions have the flavor of early Ornette and Bill Dixon... [this] is a timely and absorbing set of new jazz from Chicago. It's a lively scene, and this CD documents a part of it that appears to be in the process of establishing its importance to the jazz world today." — Gapplegate music blog
More Information...
Paul Giallorenzo main page at 482music.com
Copyright © 2023 482 Music