Mike Reed: People Places and Things: Proliferation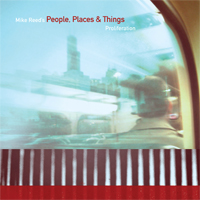 year: 2008 | cat#: 482-1060
Tracks
| | |
| --- | --- |
| 1. | Is-it |
| 2. | Wilbur's Tune |
| 3. | Be-Ware |
| 4. | People |
| 5. | Status Quo |
| 6. | Planet Earth |
| 7. | Sleepy |
| 8. | Places |
| 9. | FA |
| 10. | Pondering |
| 11. | Saturn |
| 12. | Things |
"Top Ten 2008" - Chicago Tribune
From the liner notes:
This record is presented with thanks to the People, Places & Things that were the Chicago jazz, blues and improvised music scene from 1954-1960, especially the under-recorded and under-recognized folks that not only kept the music alive, but helped move it to new horizons. Assembled here are interpretations of tunes written by artists from or during their time in Chicago, as well as a few originals dedicated to the era. These are not literal interpretations, but rather adjusted to the feel of the modern city and its sound.
A little info on the tunes:
The vibrant drummer Walter Perkins led Chicago's most noted hard bop band, The MJT+3. With the stunning line up of Harold Mabern, Frank Strozier, Willie Mitchell and co-leader Bob Cranshaw, these musicians would serve in some of the most historic jazz settings of the coming decades. Although attributed to the entire band, this MJT tune, "Is-it", was most likely a Frank Strozier composition.
Wilbur Campbell was not only one of the most sought after drummers in Chicago (Gene Ammons, Johnny Griffin, Dexter Gordon, and Eddie Harris, to name a few), but also an accomplished piano and vibraphone player. This tune, simply titled "Wilbur's Tune Number 2", originally appeared on The Ira Sullivan record Nicky's Tune.
Written by the great alto player John Jenkins, "Be-Ware" was a dedication to the ubiquitous bass player Wilbur Ware. Although one of the most recorded hard bop players, Ware led only one session, The Chicago Sound, where this tune appears.
"People": For Frank Strozier, Nicky Hill and King Fleming
"Status Quo" may be the greatest opening track of the hard bop era. Featured on the Clifford Jordan/John Gilmore album Blowing In From Chicago, it was penned by another of the city's fine tenor men, the under-recorded John Neely.
Although Sun Ra may have been from Saturn, it wasn't until his time in Chicago that this become a revelation. We perform two Ra tunes, which developed during his Chicago years, "Planet Earth", and "Saturn", which many consider The Arkestra's theme song.
Singer, poet and activist Oscar Brown Jr. seemed to embody the artistic social political movement that pervaded America from the late 50's through the 60's. As a collaborator on such projects as Max Roach's We Insist! Freedom Now Suite, Brown was at the forefront of delivering the message of the people. On his tune "Sleepy" we try to evoke the down-home unrest that was such a huge part of the era.
Simply titled, "FA", this tune was part of the two-sided abilities of tenor player Tommy "Madman" Jones. Part bar walker and part Ben Webster-inspired balladeer, by 1957 Jones touched upon what would become the sound associated with classic Coltrane quartet of the early to mid sixties.
"Places": For The Pershing Hotel and Sutherland Lounge
"Pondering", another John Jenkins composition, was featured on the album Alto Madness (a co-leader date with Jackie McLean). The unison alto on the original recording predicts the sound of the early bop-influenced music that The Art Ensemble of Chicago would make more than a decade later.
"Things": For Jodie Christian, John Young and Willie Jones
Musicians: Greg Ward (alto saxophone, percussion, piano), Tim Haldeman (tenor sax, percussion, piano), Jason Roebke (bass, percussion, piano), Mike Reed (drums, piano)
"In one of the most ingenious recordings to come out of the Chicago avant-garde this year, drummer-visionary Reed set himself a formidable challenge: to capture the spirit of the Chicago hard-bop scene of the mid- to late-1950s. Though Reed and his People, Places & Things band revisit classic tunes by Sun Ra, Wilbur Campbell and John Jenkins, the band brilliantly reinvents them." — Howard Reich, Chicago Tribune
"...
Bill Shoemaker (pointofdeparture.org, Downbeat)
Mike Reed Proliferation
Neil Tesser (Chicago Reader, jazz.com)
Mike Reed Proliferation
John Corbett (Downbeat, Chicago Reader)
Mike Reed Proliferation
Willard Jenkins (Downbeat, JazzTimes)
Mike Reed The Speed of Change
Art Lange (Fanfare, pointofdeparture.org)
Mike Reed Proliferation
Peter Margasak (Chicago Reader, Downbeat)
Mike Reed Proliferation
..." — Village Voice 2008 Jazz Poll Top Tens
"Drummer Mike Reed formed this quartet last year to explore the rich but neglected trove of local postbop made between 1954 and 1960. When New York emerged as jazz's center in the late 40s it overshadowed most smaller scenes, but the tunes Reed tackles on the new Proliferation (482 Music) - associated with Sun Ra, John Jenkins, and Wilbur Campbell, among others - are as indelible as anything that was being cut at Rudy Van Gelder's place. Reed, reedists Greg Ward and Tim Haldeman, and bassist Jason Roebke don't try to make People, Places & Things a repertory band: though the buoyant rhythms and rippling melodies in these deeply soulful songs remain intact, that's not because they're played straight. The group pushes against the swing feel, and Ward and Haldeman, who steer clear of the traditional string-of-solos approach in favor of electric multilinear improvisations, abstract bits of the tunes - stretching and transforming them, stripping them down and reconstituting them - without sapping their vibrance. Proliferation proves not only how sturdy these songs are, but also how nimble, progressive, and hard-swinging Reed's quartet is. I don't know if I've enjoyed a jazz album more this year." — Peter Margasak, Chicago Reader
"**** Since the 1980's, merely paying tribute to history has become one of the worst blemishes on jazz recording; you could tile your bathroom with dreary, uninspired records that aim to honor Miles...Coltrane...Monk... and so on, which nail the notes but miss the spirit by a country mile. Chicago drummer Mike Reed leads two bands that deal with the past and get it right. Not only have he and his cohorts done their homework by learning the idioms and ideas... they've worked to reconcile what they've learned with their knowledge of contemporary ways. These ensembles don't simply re-create; they create." — Bill Meyer, DownBeat
"People, Places & Things stems from Reed's fascination with '50s Chicago jazz. PPT both infuses with new meaning and pays homage to tunes from a cataclysmic time in the city's jazz history, when seeds of the avant-garde collective Umbrella were first planted. In covering the ominous early work of Sun Ra, as well as Oscar Brown Jr. and saxophonist John Jenkins, the dueling voices of bold, young alto saxophonist Greg Ward and tenor man Tim Haldeman expose the fractured foundation upon which this music was built. Ultimately, Proliferation wildly succeeds in giving new life to an era long taken for granted." — Matthew Lurie, Time Out Chicago
"Reed avoids tired nostalgia by recasting these durable chestnuts with a rough-hewn edginess that is unsentimental, yet reverent. Placing a modernistic spin on a set of tunes that simultaneously looks ahead while evincing their innovative spirit, the quartet avoids routine conventions in favor of interweaving counterpoint, controlled collective improvisation and subtle rhythmic deconstruction." — Troy Collins, AllAboutJazz.com
"This driving session has an explicit agenda - to pay homage to specific jazz musicians from earlier eras that left their mark on Chicago. [The] tunes all get robustly complex, intricately harmonized, and brilliantly improvised treatments. The music boasts all the free-wheeling energy of post-bop, and the players have serious fun fashioning their thorny interplay of saxes, bass and drums... these remarkable sessions open fresh musical vistas and deliver the palpable thrill of liberation from preconceptions." — Derk Richardson, The Absolute Sound
More Information...
Doubled Up — JazzTimes
Fest opens with tale of 2 schools — Chicago Tribune
Proliferation / The Speed of Change — Cadence
Mike Reed main page at 482music.com
Copyright © 2023 482 Music