Jason Adasiewicz: Rolldown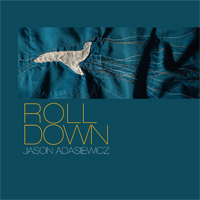 year: 2008 | cat#: 482-1058
Tracks
| | |
| --- | --- |
| 1. | Good Looking Android |
| 2. | Creep |
| 3. | Little Screw (alternate take) |
| 4. | Small Potatoes |
| 5. | Defense |
| 6. | Valerie |
Buy Online
Rolldown takes its name from Adasiewicz's band of the same name featuring Josh Berman, Aram Shelton, Jason Roebke and Frank Rosaly.
"Composing pieces for Rolldown started with free improvisation on the piano," explains Adasiewicz, who wrote all the music during a year in Madison, Wisconsin in which he supported his wife's academic pursuits and re-evaluated his life while working on a vegetable farm. "The melodies are usually comprised of more than one voice and the tunes do not follow a chord progression, but were constructed using conventional ABA song form. Harmony is created spontaneously during the group's improvisation, and the rhythm, while deeply rooted in the jazz tradition, at times pulls away from any suggestion of pulse."
"He emphasizes his terrific originals in Rolldown," wrote the Chicago Reader's Peter Margasak, adding, many songs on Rolldown "recall the brilliantly oblique postbop material Bobby Hutcherson recorded for Blue Note in the late 60s, but others are based on gently rippling, coloristic passages. Adasiewicz lays down spiky, sweet-and-sour harmonies behind the solos, and his own improvisations are jagged tangles that make unexpected turns and recapitulations."
Adasiewicz is a member of more than 20 working bands, including the Guillermo Gregorio Trio, Fred Lonberg-Holm's Valentine Trio + 1, Rob Mazurek's Exploding Star Orchestra, the Nicole Mitchell Quartet and Ken Vandermark's Double Quartet. His debut as a leader on 482 Music follows a long association with the label that includes recordings with Aram Shelton's Arrive, Harris Eisenstadt and Mike Reed's Loose Assembly. He also appears on two tracks from the sampler that launched the label's Document Chicago series in 2003.
Also available as the original cd version including video.
Musicians: Jason Adasiewicz (vibraphone), Josh Berman (cornet), Jason Roebke (bass), Frank Rosaly (drums), Aram Shelton (alto saxophone)
"Vibraphonist Jason Adasiewicz has become so ubiquitous in Chicago that it comes as a bit of a shock to realize that this is the first record to come out under his own name...it is a promising debut." — Bill Meyer, DownBeat
"A promising debut, Rolldown is the 14th album in 482 Music's Document Chicago series, and reveals Adasiewicz to be a new voice worthy of attention in that fertile scene." — Troy Collins, AllAboutJazz.com
"Vibraphonists seeking to extend the pioneering work accomplished by doyens like Hutcherson and Dickerson are relatively few. Adasiewicz is certainly countable among that modest number and this debut will hopefully mean the first of many more albums to follow." — Derek Taylor, Bagatellen
"The new album is both Adasiewicz's promising first step as a leader and a powerful statement." — Matthew Lurie, Time Out Chicago
"The attractiveness of this music is, perhaps, Adasiewicz boldly placing Rosaly and Roebke so far forward in the mix. Acting more than time and rhythm keepers, they prod the frontline players constantly. This total commitment to a group sound makes Rolldown a special band and album, and Adasiewicz a revelation as a new jazz composer." — Mark Corroto, AllAboutJazz.com
"...with Rolldown, Adasiewicz makes it known that in addition to his thrilling performances with others, his own work is equally compelling." — Jay Collins, Jazzgram
"Vibraphonist Jason Adasiewicz is one of a number of rising new vibe players of particular note..." — Mark F. Turner, AllAboutJazz.com
More Information...
Rolldown — Cadence
Jason Adasiewicz main page at 482music.com
Copyright © 2023 482 Music