Dave Rempis: Hunter-Gatherers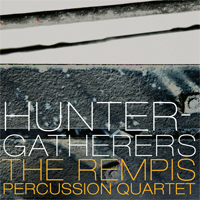 year: 2007 | cat#: 482-1056
Tracks
| | |
| --- | --- |
| 1. | A Night at the Ranch part I |
| 2. | The Bus and the Canyon |
| 3. | More Green than Giraffe |
| 4. | Black Book |
| 5. | A Night at the Ranch part II |
| 6. | Larks and Loons |
A two-disc live set named after the Columbia, South Carolina venue where it was recorded in April 2006.
Critics called the band's most recent CD, last year's Rip Tear Crunch, "engaging and unpredictable" (Brian Gilmore, JazzTimes), "one of the best records of the year" (Bill Meyer, Chicago Reader), and a "compelling set of five compositions that demonstrate that there is more up Rempis' and his cohorts' sleeves than just a bunch of free jazz bashing" (Jay Collins, Cadence). Time Out Chicago's Matthew Lavoie added, "And it helps that The Rempis Percussion Quartet's tremendously propulsive Afrobeat grooves, unending swing and even breathtakingly quiet moments - all with bassist Anton Hatwich darting between them - seem to draw fro m a bottomless well of energy."
Rempis first earned widespread notice as a member of the Chicago music scene's quintessential Vandermark 5, but has since established himself as a leader in his own right at the helm of groups such as The Engines, Triage, the Dave Rempis Quartet and The Rempis Percussion Quartet. AllAboutJazz.com interviewer Paul Olson recently wrote, "Rempis embodies all of the best qualities of the Chicago improvisational music scene: he's a gifted but disciplined player who knows his instruments inside and out; he's a fearless, imaginative improviser; and he uncomplainingly works his ass off." In addition to his extensive work as a leader and active sideman, which led DownBeat to call him one of its Talents Deserving Wider Recognition in 2006, Rempis is also a founding member of the Chicago presenters' collective Umbrella Music and the curator of a weekly concert series at the not-for-profit performance space, Elastic.
Musicians: Tim Daisy (drums), Anton Hatwich (bass), Dave Rempis (saxophone), Frank Rosaly (drums)
"RPQ drives through six songs with a wild-eyed (and percussive) passion..." — Playboy
"The new live double CD by this local powerhouse, Hunter-Gatherers (482 Music), is the best document yet of how free its improvisations really are. They run the gamut from fractured, meterless exchanges to pop-derived material, and they\'re equally persuasive at both ends. On \"Black Book,\" for example, reedist Dave Rempis starts out playing Doppler-effect baritone-sax lines that swing through the arrhythmic clusters of drummers Frank Rosaly and Tim Daisy like a comet sweeping through cosmic debris. Then he locks into a ferocious stomp with bassist Anton Hatwich, the drummers elaborate on that pulse, and the music veers thrillingly close to an all-acoustic hybrid of rock and gutbucket R & B. The giddy energy lapses a bit, then surges during a busy percussion discussion that resolves into an electrifying, bluesy finale - and when you recover your senses, just 12 minutes have passed. The players negotiate each transition and embrace each element without hesitation, and when they\'re fresh off the road - like they will be at this record-release party - their interactions are honed to almost telepathic quickness. Bob Weston of Shellac spins. 9 PM, Hideout." — Bill Meyer, Chicago Reader Critic\'s Choice
"After last year\'s highly praised Rip Tear Crunch, Dave Rempis and his dual-percussionist quartet had set the bar extremely high, churning out an emotionally charged level of intensity that caught the ear of critics and fans alike. One year later, Hunter-Gatherers, part of 482 Music\'s Document Chicago series, has proven that the Rempis Percussion Quartet is one of the most \"now\" groups in the scene today; they have recaptured the energy from their debut release and built upon it in a masterful 2 disc set of live music. Somewhere between the biting fury of Peter Brotzmann and the complexly swinging style of Fred Anderson, Dave Rempis has established a unique and versatile voice, that, when backed with an unprecedented set of chops, has produced some of the most satisfying playing in the genre today. Frank Rosaly and Tim Daisy are a tour-de-force, bringing soul-gripping rhythm and power and an intangible sense of cohesion. Hunter-Gatherers is one of free jazz\'s most shining accomplishment this year, from a band for whom the sky is the limit." — Mike Szajewski, WNUR
"Their creativity and joyous energy is infectious and had me smiling and jumping around in my chair. Yet another strong concoction from Chicago\'s finest." — Bruce Gallanter, Downtown Music Gallery
"Frank Rosaly and Tim Daisy exhibit percussive prowess that balances rhythmic vitality with diligence to texture and color. Their often-twining patterns complement rather than collide and each knows when to lay out and let the other assume the lead. Bassist Anton Hatwich assumes the role of harmonic fulcrum, carving always-voluble lines even when the drummers hammer their kits with rising stentorian force. In the driver\'s seat by virtue of both marquee positioning and instruments, Rempis sticks to alto and baritone saxophones. The duality hardly restricts him in terms of dynamics and he periodically dips into the tenor register on the smaller horn. Rempis can readily negotiate a complex composed line, but ... he also has a pronounced affinity for on-the-fly improvisation. The four players work best when digging into the marrow of a vamp or riff as... on the sprawling \"The Bus and the Canyon\". The rustic theme gives rise to some rousing R&B style punch pressing in the track\'s closing minutes and elicits encouraging shouts from the crowd." — Derek Taylor, Bagatellen
"The energy of this live performance is impressive... The lengthy narratives have light and shade amid intense ram raid solos by the leader who has a powerful, pungent tone. Things really cook when the two percussionists conjure up the presence of a small drum orchestra..." — Kevin Le Gendre Jazzwise
"Free jazz, Chicago style, meaning a reverence for the jazz tradition amid tumultuous free passages and pensive quiet segments...an awesome live session..." — Craig Matsumoto, KZSU Zookeeper
"Rempis is the talent to watch... Hunter-Gatherers is a testament to the boundless creativity and seemingly inexhaustible energy of this youthful band... Rempis sounds great; sprightly on alto, penetrating on tenor, expansive on baritone. In what is essentially a saxophone trio, Rempis does the work of two horn men, shouldering the burden of making these relatively long, freely improvised tunes shape-shift as if both the destination, as well as the journey, were preplanned... Rempis\' playing demonstrates such continuity and is so rich with ideas and free from cliché and repetition, that it\'s easy to forgive the drum solos..." — Jeff Stockton, All About Jazz New York
"As declamatory freebop goes, it\'s undeniably exciting..." — Brian Morton, Jazz Review
More Information...
Short List: Jazz — Amsterdam Weekly
Hunter-Gatherers — Downtown Music Gallery
Hunter-Gatherers — Point of Departure
Dave Rempis main page at 482music.com
Copyright © 2023 482 Music