Mike Reed: Loose Assembly: Last Year's Ghost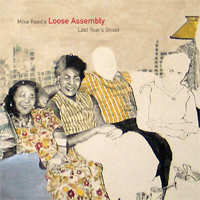 year: 2007 | cat#: 482-1055
Tracks
| | |
| --- | --- |
| 1. | Flowers |
| 2. | Day of the Dead |
| 3. | Old Souls |
| 4. | Afterthoughts |
| 5. | 1974 |
| 6. | The Entire State of Florida |
| 7. | Exorcism |
| 8. | Simone's Crumbs |
| 9. | Temporary States |
| 10. | Ghost Writer |
| 11. | Dreaming with Jill |
Called "one of Chicago's most sublime Jazz outfits" by Time Out Chicago, Loose Assembly features alto saxophonist Greg Ward, vibraphonist Jason Adasiewicz, cellist Tomeka Reid and bassist Josh Abrams. Last Year's Ghost documents aural poems Reed created based on the compositional ideas and freeform playing of his band mates, linked by the common theme of what he calls "the traces of people and places past."
Musicians: Josh Abrams (bass), Jason Adasiewicz (vibes), Mike Reed (drums), Tomeka Reid (cello), Greg Ward (alto saxophone)
"Top Ten 2007" — Jay Collins, Cadence
"Top Ten 2007" — Jerry D'Souza, JazzHouse.org
"Recommended New Release" — David Adler, All About Jazz -New York
"...a well-designed collection of hook-filled tunes and atmospheric interludes... a few more recordings like Last Year's Ghost and Mike Reed will be in the first rank of living American bandleaders." — Bill Shoemaker, Point of Departure
"...a wonderfully unique debut from one of Chicago's great young scenesters. Anyone with an interest in Chicago's vibrant creative music community should not hesitate..." — Jay Collins, Cadence
"Alternating between short, mostly improvised pieces focused on texture and gestural interplay and fully realized tunes—from elegant ballads with long, lilting melodies to blistering free bop that recalls Chicago's soulful jazz past - it's a collection of raw beginnings and satisfying conclusions. Reed and bassist Josh Abrams lay down propulsive grooves, over which vibist Jason Adasiewicz floats spiky harmonic patterns; this gives alto saxophonist Greg Ward and cellist Tomeka Reid plenty to work with once they break out of their unison melodic lines and turn to improvising. Ward in particular sounds terrific, balancing gorgeous lyric shapes with tightly coiled multiphonic screams." — Peter Margasak, Chicago Reader Critic's Choice
" Well-paced and parceled, this is one to savor." — Derek Taylor, Bagatellen
"... a perfect balance between unfettered creativity and formal aesthetics... merges the austere reverence of chamber music with the scalding intensity of Chicago's historically ebullient free jazz, making a case for the re-evaluation of commonly held geographic prejudices. Although conventional wisdom dictates New York as the center of the jazz world, documents like this beg to differ." — Troy Collins, All About Jazz
"... Loose Assembly hits the mark. This Chicago group, celebrating the release of its fine new album, makes delicately crafted, subtle jazz that serves as a refreshing alternative to the Chicago skronking norm." — Time Out Chicago
"Each listen seems to bring new rewards..." — Nic Jones, All About Jazz
"...pulled off with convincing panache. It's intelligent, contemporary American music with lashings of PoMo cleverness and plenty to say." — Daniel Spicer, Jazzwise
"Alto, vibes, cello and bass makes up the contingent, but there's nothing loose about these assemblages; It's tight as a wheelnut." — Brian Morton, The Wire
More Information...
Last Year's Ghost — Point of Departure
Last Year's Ghost — Jazzwise
Last Year's Ghost — Cadence
Short List: Jazz — Amsterdam Weekly
Mike Reed main page at 482music.com
Copyright © 2023 482 Music