Taylor Ho Bynum & Tomas Fujiwara: True Events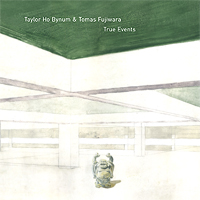 year: 2007 | cat#: 482-1052
Tracks
| | |
| --- | --- |
| 1. | Wisdom |
| 2. | The Upset |
| 3. | Five Miniatures (Ficciones) |
| 4. | Ship |
| 5. | The Leaning Reflection |
| 6. | Akickitaround |
| 7. | Biloxi / Ikuru |
| 8. | The Emperor of Ice Cream |
| 9. | Wisdom (Reprise) |
These longtime collaborators first worked together 15 years ago while still in high school, and have since performed together hundreds of times in a variety of ensembles. "I feel like I can anticipate what Tomas is going to play," says Bynum of their relationship in the liner notes, "yet I'm continually surprised and delighted and inspired by what he does." The nine tracks on True Events, a mix of pre-conceived elements and spontaneous improvisation, also take their inspiration from Anthony Braxton's principles of language improvisation, as well as the work of musicians such as Alan Dawson, Talib Kweli and Wayne Shorter.
Musicians: Taylor Ho Bynum (cornet), Tomas Fujiwara (drums)
"2007's Top 10 Recordings" — Howard Mandel, JazzHouse.org / Downbeat / NPR
"Top Ten 2007" — John Sharpe, All About Jazz
"The Best Albums of 2007" — K. Leander Williams, Time Out New York
"Top Ten 2007" — Brian Morton, Jazz Review
"****" — Jazzman
"a scintillating album... crackling with improvisational energy but guided by compositional prescription." — Nate Chinen, The New York Times
"In the four decades since John Coltrane went head-to-head with Rashied Ali on Interstellar Space, the sax-drums duet has become a veritable subgenre of jazz. But the idiom's other prestige ax, the trumpet, hasn't had nearly as much time alone with the trap set. Given the recent efforts of brass players such as Axel Dörner, Greg Kelley and Peter Evans to expand the instrument's timbral palette, the time seems ripe for the horn to make its mark in the intimate duet format. Fellow searcher Taylor Ho Bynum is just the man for the job." — Hank Shteamer, Time Out New York
"...proceeds with purpose and clarity. Bynum's horn playing is consistently delightful. He moves fluidly between elaborate, piquant figures, salty rasps and plaintive laments. Even while expending plenty of energy, Fujiwara approaches the wide-open duo format with restraint. ****" — Bill Meyer, Downbeat
"Ostensibly very different from Bynum's earlier Other Stories, which concentrated on composed forms, this is still much concerned with the fine line between 'written' and 'free' music, and every bit as successful.." — Brian Morton, The Wire
"....music that treads an engaging creative line between tightly structured writing and spiraling improvisation. In turn introverted and extraverted, contemplative and explosive, this work makes a case for both men as very sensitive players who have a finely honed sense of dynamics and attention to detail.... there's much to be enjoyed in this set..." — Kevin LeGendre, Jazzwise
"New and Noteworthy" — Alexander Gelfand, Jazziz
More Information...
Press Release — Media Contact for 482 Music
Top Live Show — Time Out Chicago
True Events — Cadence
Taylor Ho Bynum & Tomas Fujiwara main page at 482music.com
Copyright © 2023 482 Music