Herculaneum: Orange Blossom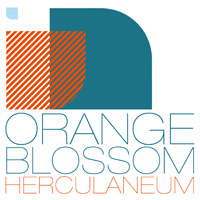 year: 2006 | cat#: 482-1051
Tracks
| | |
| --- | --- |
| 1. | Bears of Illium |
| 2. | Let There Be Neon |
| 3. | Fuzball in Valhalla |
| 4. | Girl We Couldn't Get Much Higher |
| 5. | Lionheart |
| 6. | Cry of the Locusts |
| 7. | Twin Unicorns |
| 8. | Return to the Woods |
Orange Blossom is the 12th title in the Document Chicago series, which has been recording the latest generation of the city's illustrious creative music scene for the past four years. Founded in 2002, Herculaneum mixes creative improvisation with diverse influences such as 20th Century avant-garde composition and Romany Gypsy brass bands to create a cohesive yet cosmopolitan new sound. Orange Blossom, the group's follow-up to its eponymous self-released 2004 debut, documents its expanding song structures, instrumentation and breadth of compositional strategies, which range from lush soundscapes to duos and trios of Leone-like abstraction.
Musicians: Nick Broste (trombone), Greg Danek (bass), David McDonnell (alto saxophone, clarinet), Patrick Newbery (trumpet), Dylan Ryan (drums, vibraphone, piano) with John Beard (guitar), Andra Kulans (viola)
"Top 10 2006" — Alexander Gelfand, Jazziz
"The excellence that marks 482 Music\'s Document Chicago series carries on with this twelfth release. As before, the series serves to showcase the diverse talent that marks the improvised jazz scene in Chicago; Herculaneum brings in its own influences, which it shapes into an earthy, heated and prolifically inspired voice in constant shift." — Jerry D\'Souza, All About Jazz
"...blazingly original ... a rare entity: a new group that seemingly arrives from nowhere, fully formed with its own sound ... one of the finest albums by an up-and-coming ensemble one is likely to hear this year." — Troy Collins, All About Jazz
"...elegantly crafted and sharply executed, full of fluid lines and gorgeous changes... Echoes of the muscular, outward-leaning classic Blue Note sessions of the 60s and the arrangements of Gil Evans can be heard... here\'s hoping this is just the beginning of a long history for this quintet." — Richard Moule, Signal to Noise
"...one of the best records by local artists I have heard this year... a unique voice that deserves to be heard." — Alain Druout, JazzGram
"The young quintet retreats from the free-jazz strains this city has become known for, its sophomore \"Orange Blossom\" (482) threading tropical accents, post-bop lines and winking notes through a three-horn section as graceful as it is bold. (Safe Bet)" — Bob Gendron, Chicago Tribune
"Consistently solid throughout. A most impressive debut from a swell new quintet." — Bruce Gallanter, Downtown Music Gallery
"Some of the most innovative stuff I\'ve heard recently has come from 482 Music, including Orange Blossom by Herculaneum, a group that spices its funky grooves with spicy dissonances." — Alexander Gelfand, Jazziz
"This fine local quintet takes a big step forward on Orange Blossom, the follow-up to its 2004 debut. The disc\'s eight diverse pieces, written by drummer Dylan Ryan, showcase the group\'s postbop ebullience and resourcefulness, balancing warm, catchy melodies and insistent grooves in nifty contrapuntal arrangements. The band has chops too: solos by trombonist Nick Broste, trumpeter Patrick Newbery, and reedist David McDonnell arrive in tight processions that enhance the flow of each tune." — Peter Margasak, Chicago Reader
More Information...
Orange Blossom — Downtown Music Gallery review
Orange Blossom — JazzGram
Herculaneum main page at 482music.com
Copyright © 2023 482 Music