Mike Reed: In The Context Of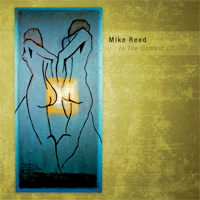 year: 2006 | cat#: 482-1047
Tracks
| | |
| --- | --- |
| 1. | w/ Jeff Parker |
| 2. | w/ Jim Baker |
| 3. | w/ Nicole Mitchell |
| 4. | w/ Jeff Parker |
| 5. | w/ Jim Baker |
| 6. | w/ Nicole Mitchell |
| 7. | w/ Jim Baker |
| 8. | w/ Nicole Mitchell |
From the liner notes:
"In the fall of 2003 I was asked if I had any interest in making a solo drum recording. Although a flattering idea, I declined. The nature of any music that I have participated in has been that of a relationship and dialogue with other musicians. My ideas and ideals as a musician, no matter how out front or supportive, have always stemmed from performing In The Context Of an ensemble. Presented here is the barest display of that context, a series of duets with some of my favorite musicians. I'm truly blessed to have the opportunity to listen and interact with these unique people on and off the stage."
Musicians: Mike Reed (drums and percussion), Jeff Parker (guitar), Jim Baker (ARP synthesizer), Nicole Mitchell (flutes)
"..an excellent collection of intimate encounters between Reed and three fantastic musicians. Listen to it the first time to hear sounds you've never heard before, and you'll listen to it again and again to discover more of these nuanced soundscapes." — Daniel Godston, Jazz Institute of Chicago JazzGram
"Though none of the music here was premeditated, Reed paints surprisingly articulate lines under Parker's spindly fragments, and complements Mitchell's pastoral lines with instinctive tonal color. The thrill of discovery along the way is a lot like that on Lee Konitz's classic The Lee Konitz Duets album, just updated for abstract, modern tastes." — Nathan Turk, Signal to Noise
More Information...
In the Context Of — Jazz Times
In the Context Of — JazzGram
Mike Reed main page at 482music.com
Copyright © 2023 482 Music