Fire of Space: Handbasket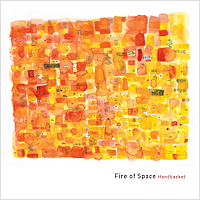 year: 2006 | cat#: 482-1043
Tracks
| | |
| --- | --- |
| 1. | Rampi Rampi |
| 2. | Quiet (as the Birds of Fewa) |
| 3. | Handbasket |
| 4. | Valleys of Jade |
| 5. | Children's Voices |
| 6. | Asifina Dream |
| 7. | Prayer to the Elders |
Handbasket delivers Fire of Space orchestrations of musical influence from a variety of cultural locales, including Turkey, Siberia and the Punjab region of India. The band makes use of unusual instrumentation (in the tradition of early swing bands and Sun Ra) featuring double reeds, contra-bass clarinet, c-melody saxophone, accordion, acoustic piano and electric keyboards and effects processors.
Founded by trumpeter and composer Jordan McLean, Fire Of Space features a raucous four-horn front line familiar with fans of the Antibalas Afrobeat Orchestra: McLean on trumpet, trombonist Aaron Johnson and reedsmen Stuart Bogie and Michael Herbst; with the rhythm section of keyboardist Shoko Nagai, bassist Tom Abbs and percussionist Geoff Mann, mainstays of the New York City improvised music scene.
Collectively, members of Fire of Space have toured and/or recorded with a wide range of artists, including the Antibalas Afrobeat Orchestra, William Parker's Little Huey Creative Orchestra, Steven Bernstein's Sex Mob, Cooper-Moore, Ori Kaplan, Borah Bergman, Daniel Carter, Roots Combination, the live drum and bass outfit Droid, Dub Is A Weapon, Fu-Arkist-Ra, and Medeski, Martin & Wood. Inspired by sources ranging from Sun Ra to marching bands to traditional musics from Eastern Europe and India, Fire of Space is no stranger to adventure. A band of high-energy and sometimes unruly improvisers, Fire of Space can turn on a dime and take off in any number of directions.
Musicians: Michael Herbst (oboe, English horn, tenor saxophone, flute), Stuart Bogie (clarinet, contra-alto clarinet), Jordan McLean (trumpet), Aaron Johnson (trombone), Geoff Mann (drums), Shoko Nagai (organ, pianette, percussion), Tom Abbs with Martin Perna (baritone saxophone), Leah Paul (alto flute)
"...a richly flavored, complex stew of a session." — David Dupont, Cadence
"... a gem... great to hear this fine local ensemble blending Sun Ra, Miles and assorted ethnic influences into something new and exciting." — Downtown Music Gallery
More Information...
Handbasket — Cadence
Handbasket — Downtown Music Gallery review
Fire of Space main page at 482music.com
Copyright © 2023 482 Music