Greg Burk: Ivy Trio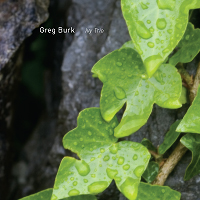 year: 2007 | cat#: 482-1038
Tracks
| | |
| --- | --- |
| 1. | Look to the Neutrino |
| 2. | Blink to Be |
| 3. | Dumbo's Dilemma |
| 4. | Hupid Stumid |
| 5. | Ducks and Gulls |
| 6. | Operetta |
| 7. | Billie's Bounce |
This is Burk's third release on the label in as many years and the one he calls "the most complete expression of my ideas with regards to composition and group conception to date." Ivy Trio documents six Burk originals, including re-imaginings of four previously recorded tracks, plus an interpretation of Charlie Parker's "Billie's Bounce."
"Ivy Trio was recorded in a study lounge in a Harvard University dormitory with elegant old couches and chairs, heavy curtains and carpeting, and an early 1900's Steinway B," remembers Burk in the liner notes. "This environment was as close to my childhood living room as a studio can be. The resonance I felt with my surroundings on the day of this recording put me in a state of profound relaxation and enabled me to express myself at my most lucid and personal level. Not only did I feel entirely at home in this environment, I was also playing with two musicians with whom I shared a deep trust. This session was like sharing a bottle of wine around the kitchen table with a group of friends."
"Burk, while still relatively young, has all the makings of a musical giant," writes AllAboutJazz.com Senior Editor John Kelman. Critics have called his music "mesmerizing" (Andrew Lindemann Malone, JazzTimes), "inquiring and uncomplacent" (Nate Dorward, Cadence), and "explosive and lyrical at the same time" (Bill Shoemaker, PointofDeparture.org). Burk has lived and worked all over the world, performing and recording with luminaries such as Jerry Bergonzi, Gerald Cleaver, the Either/Orchestra, Garrison Fewell, George Garzone, Michel Lambert, Dave Liebman, Bob Moses, Rufus Reid, Steve Swallow and John Tchicai. Since moving from Boston to Rome three years ago, he has worked extensively on the European jazz scene, performing at dozens of festivals and presenting workshops all across Italy. Ivy Trio is his sixth recording as a leader.
Musicians: Greg Burk (piano), Luther Gray (drums), Jonathan Robinson (bass)
"Top Ten 2007" — Philip Clark, Jazz Review
"...Burk presents a piano trio of a different stripe... creates on-the-spot spontaneous composition that is easy to recognize, tough to pigeonhole, smartly conceived, and well realized." — Michael G. Nastos, All Music Guide
"Ivy Trio is his second effort in this format; in comparison with its predecessor, Nothing, Knowing, which featured Bob Moses and Steve Swallow, Ivy is a gathering of peers, a more casual and comfortable affair... the session as a whole flows with effortless continuity and cohesion, slipping in and out of well-constructed song forms and open-ended \"free\" zones, creating a nice balance of push and pull, ebb and flow. Although half of these tunes received treatment on Nothing, Knowing, here they are new and \"improved,\" a tribute to the collaborative nature of the musicians." — Tom Greenland, All About Jazz New York
"Worth checking out... spicily imaginative recording of mostly originals kicks off with a bit of tasty Moog-led jazz-psychedelia before morphing into a piano trio with a taste for off-centre, post-Monk/Bley jazz." — Selwyn Harris, Jazzwise
"...remarkably instinctive... Burk has constantly shown a strong sense of composition. His ideas are well harvested with a rhythm section that is right on." — Jerry D\'Souza, All About Jazz
"The pianist shines as a superb improviser well beyond his years. He incorporates a great deal of gusto into his attack while often punching out climactically-oriented theme building passages. He darts, weaves and occasionally encircles the rhythm section amid an abundance of melodically tinged mosaics of sound. Simply stated, it\'s another impressive effort from this budding stylist…" — Glenn Astarita, eJazz News
"Consistently fascinating pianist, now based in Rome. This salvo starts with a disarming nu-jazz track "Look to the Neutrino" and ends with a warped, pantonal rendering of "Billie's Bounce." Much of interest on the intervening five tracks as well..." — David Adler, Lerterland
"Burk è in effetti uno dei migliori giovani pianisti della scena internazionale, con uno stile che facendo tesoro della tradizione mainstream, si spinge alla ricerca di nuove soluzioni..." — Angelo Leonardi, All About Jazz Italia
"... Burk is clearly a confident, measured, and thoughtful writer...Ivy Trio sneaks up on you stealthily, so that by the end, you realize that there is something special at work..." — Steven Loewy, Cadence
More Information...
Greg Burk main page at 482music.com
Copyright © 2023 482 Music