Fonda / Stevens Group: Forever Real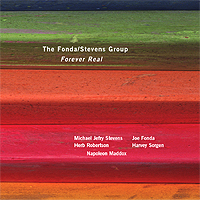 year: 2005 | cat#: 482-1032
Tracks
| | |
| --- | --- |
| 1. | Forever Real |
| 2. | From the Source |
| 3. | The Stalker |
| 4. | A Question of Love |
| 5. | Relentlessness |
| 6. | The Call |
| 7. | Cotton |
Dubbed "one of the great and often underappreciated jazz groups of the modern era" by the All Music Guide, and "arguably one of the finest and hardest working modern jazz outfits in the business" by All About Jazz, the Fonda/Stevens Group has consistently toured and recorded to critical acclaim for more than a decade. Together since their days in the legendary Mosaic Sextet (with Dave Douglas, Mark Feldman, and Michael Rabinowitz) in the late 80's, the core rhythm section team of Michael Jefry Stevens, Joe Fonda, and Harvey Sorgen has collaborated under the Fonda/Stevens banner with front-line musicians such as Mark Whitecage and Paul Smoker. Their eighth recording, Forever Real, features frequent collaborator Herb Robertson, as well as special guest Napoleon Maddox from the celebrated Cincinnati hip hop group, IsWhat?!.
Musicians: Joe Fonda (bass), Michael Jefry Stevens (piano), Herb Robertson (trumpet), Harvey Sorgen (drums) with Napoleon Maddox (voice)
"Recomended New Release" — David Adler, All About Jazz New York
"Recomended New Release" — Bruce Gallanter, All About Jazz New York
"Simply put, the Fonda/Stevens Group is one of the finest and most underrated post-bop groups around. If you want to talk about innovation, tight musicianship, and near stellar interplay then you have to mention the group on Forever Real... There isn't a bad cut on the album. Just take in all the myriad styles the Fonda/Stevens Group has to offer and hope that other groups can come close to how consistent they are with their near-perfection and intensity." — Ryan McDermott, One Final Note
"Curiously and consistently overlooked in North America, the Fonda/Stevens Group, thankfully, enjoys a solid reputation in Europe that permits the group to continue. And with Forever Real, it manages to combine heady composition with more visceral improvisation, making this a potent and highly recommended release for those who enjoy their free music with a little more form." — John Kelman, All About Jazz
"The perpetual outrage I felt in my youth about inequity in the jazz biz has faded over the years... Some fine players win critics' polls. Others don't. That trumpeter Herb Robertson doesn't is almost enough to reawaken my dormant idealism. On Forever Real Robertson displays an abundant creativity and a comprehensive knowledge of his horn's possibilities. He\'s the complete jazz trumpeter, as able to mix it up on bassist Joe Fonda's "Forever Real," a loose, bossa-like modal tune, as on many free-time episodes that dot the various tracks. Fonda is a hard-swinging player who balances melodic and supportive roles exquisitely. Drummer Harvey Sorgen is a master of moving time hither and yon—maintaining the pulse while shattering meter into tiny shards. Pianist Michael Jefry Stevens blends a pliable rhythmic and melodic sense with a mercurial technique that serves him well... This stuff's out, but the band holds onto a thread of groove and swing, making it something an avant-newbie might dig." — Chris Kelsey, JazzTimes
More Information...
Fonda / Stevens Group main page at 482music.com
Copyright © 2023 482 Music