George Schuller: Jigsaw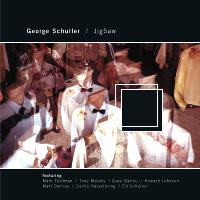 year: 2004 | cat#: 482-1026
Tracks
| | |
| --- | --- |
| 1. | Ripe |
| 2. | Punta d'Blues |
| 3. | Band Vote - mp3 sample |
| 4. | It Just Is |
| 5. | Tip Jar |
| 6. | Comeuppance |
| 7. | Tense |
| 8. | Band Vote (Recount) |
"Top Ten New Releases" - Troy Collins, Cadence
Schuller's latest showcases his well-documented ability to build a focused, inclusive framework for creative improvisation with eight original compositions for configurations ranging from quintet to septet. An extension of his long-standing group, The Schulldogs, Jigsaw incorporates the sounds and textures of additional horns and strings.
Musicians: George Schuller (drums, bells), Mark Feldman (violin), Tony Malaby (tenor and soprano sax), Dave Ballou (trumpet), Howard Johnson (tuba, bass clarinet), Matt Darriau (tenor sax, clarinet, bass clarinet), Curtis Hasselbring (trombone, guitar), Ed Schuller (bass)
"**** Four Stars" — The Penguin Guide to Jazz
"This could be subtitled "Hugely Talented But Criminally Neglected". The nucleus quartet comprises Tony Malaby, one of the most exciting saxophonists around, especially on tenor, Ed and George Schuller (sons of Gunther) on bass and percussion, and Dave Ballou (trumpet & flugel). Ballou was, of course, the cat who inspired Monk's classic tune "Ballou Bolivar Ballous". Here and there they're joined by guests, including Mark Feldman, Howard Johnson and a second reedsman, Matt Darriau. As ever, Schuller dovetails through-written charts with improvisational frameworks and out-and-out blowing opportunities to produce an edgy, intense and exciting set." — Jazz Review (UK)
"Schuller's quartet has been one of the most consistently interesting groups recently and this disc is no exception. The ensemble here doubles the size of the group for more of an "orchestral" sound. The longer pieces have a more formal composed intro rather than the head/solo/head form. There's still plenty of great solos here though, and Feldman especially gets a lot of time in the spotlight to excellent effect." — KZSU Zookeeper
"...a marvelous, all-star downtown cast. Strong playing and fine composing make this cd another special date." — Downtown Music Gallery
"Schuller comfortably blends free improvisation, new music and a surprising sense of swing for a recording that succeeds on many fronts... Schuller is emerging as a stylistically broad and challenging performer/composer/bandleader who deserves further attention from like-minded listeners." — All About Jazz
"A thoroughly rambunctious air prevails, with strong solo work from all (especially Mark Feldman on violin and Tony Malaby on tenor), a springy, turn-on-a-brotherly-dime rhythm section, and Schuller's individualized compositions providing a completely enjoyable and occasionally moving musical treat." — IAJRC Journal
More Information...
New and Noteworthy — All About Jazz
June 2004 Recommended New Releases — AAJ NY
JigSaw — Downtown Music Gallery
JigSaw — All About Jazz NY
Jigsaw — Cadence
Jigsaw — Coda
George Schuller main page at 482music.com
Copyright © 2023 482 Music