Matt Bauder: Weary Already of the Way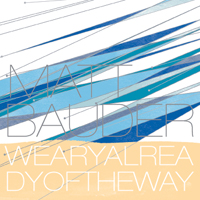 year: 2003 | cat#: 482-1025
Weary Already of the Way examines cross-currents in improvisation, composition and electronic studio manipulation. The pieces were first created in live performance, and then for this recording constructed through layering and extensive editing. The production techniques are at times subtle, and at other times central to the finished product. Bauder's compositions are realized by some of the most active and respected musicians on the Chicago improvised scene.
Notes by Matt Bauder:
"In 2000 I composed the four pieces for sextet (two reeds, two strings, two brass) that more or less apear on the disc. While I was composing I was aware that I was asking the players to play as if their sounds were being electronically manipulated. While writing the music I was thinking of a recording where the before imagined electronic processes would be actually constructed electronicly. The music on the disc was recorded in segments with solos and small ensembles and later edited and layered to construct my compositions. Very little was actually played live with everyone together... One of my main interests was non-interaction within a specific texture. We did this in a few different ways. One was to give instructions to each player and record them separately while not listening to what the others had recorded, and then layering. The beginning is probably the most electronic sounding part. It was made by recording all of the players separately playing long tones, and then I spent quite a long time cutting them into those blips by hand (by cursor I guess) on the computer. One distinction I should make is that there are no electronic sound sources (there is a Hammond organ bass line at the end, but I didn't want to make a big deal out of it by saying that I play organ on the record), and very little signal processing (some distortion on the cello, and plate reverb). "
Musicians: Matt Bauder (tenor saxophone, clarinet), Aram Shelton (alto saxophone, clarinet), Jeb Bishop (trombone), Todd Margasak (cornet), Rob Mazurek (cornet), Fred Lonberg-Holm (cello), Jason Roebke (bass)
"If one's goal is to seek out things unheard of, Weary Already of the Way is as close as one can get to witnessing a truly unique musical statement. Spearheaded by tenor saxophonist and clarinetist Matt Bauder, this seven-piece drummerless group (with alto sax/clarinet, two cornets, trombone, cello and bass) produces a music that really defies description or comparisons. Not only is it a truly collective music, with no soloists or lead voices, but it is one of the most organically successful blends of electronic sound processing and acoustic playing heard in quite a long time" — The Squid's Ear
"The players,some of Chi-town's finest - Todd Margasak and Rob Mazurek on cornets, Jeb Bishop, trombone, Fred Lonberg-Holm, cello, Jason Roebke, bass, and Aram Shelton and Bauder on saxes and clarinets - can really play. They keep their statements crisp, lucid, and fresh. The interactions display a well-honed sense of time-carving." — One Final Note
"Not always eventful, Bauder's music here nevertheless produces moments of great beauty. A fascinating start and a player to watch." — JazzTimes
"Bauder manipulates the music with a stimulating insight. Splotches of sound, splashes and daubs of color, lines that float and notes that splinter, a swish of the blues and a sprinkle of swing may seem strange companions, but here they make for a dazzling spectrum." — All About Jazz
"...a forward looking and absorbing ride along the parallel paths of composition, improvisation, and electronic recomposition. Recommended." — IAJRC Journal
"Chicago-based tenor saxophonist Matt Bauder brought together an impressive lineup for his debut recording, Weary Already of the Way...layering and processing the raw material until it resembled the classic electronic and tape compositions of European composers like Bernard Parmegiani (especially his jazz-tape fusion on Pop'eclectic) as much as the ancient to the future Chicago tradition of the Art Ensemble of Chicago and the AACM. His tone is stunning for a relatively young tenor saxophonist, vibrating with hiss and low overtones throughout the album like a less linear Ellery Eskelin.  At several points there are grand melodic buildups with group arrangements that would make Charlie Mingus proud and Willem Breuker jealous.  Bauder has thrown down quite a heavy gauntlet, one that suggests a plethora of paths that the new leader will hopefully return to explore." — All Music Guide
More Information...
Weary Already of the Way — Squid's Ear
Weary Already of the Way — Cadence
Countercurrents — JazzTimes
Matt Bauder main page at 482music.com
Copyright © 2023 482 Music