Exciting Trio: In Chicago There is Willy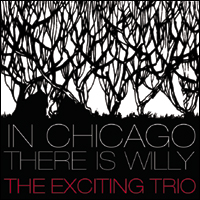 year: 2004 | cat#: 482-1023
Tracks
| | |
| --- | --- |
| 1. | Bow: M |
| 2. | Remembering Tokyo / The Last Alaskan |
| 3. | At a Place |
| 4. | Scannurz |
| 5. | Nine Years |
| 6. | You've Got a Moustache and Everything |
| 7. | Gramps on the Corner |
| 8. | Nine Years Reprise |
| 9. | Lutrell |
Document Chicago #6: In Windy City fashion, The Exciting Trio blur the lines between jazz-improv and indie rock. Drummer David Pavkovic (Toe, Tricolor) bassist Griffin Rodriguez (Bablicon, HiM) with guitarist Matt Schneider.
Musicians: David Pavkovic (drums), Griffin Rodriguez (bass), Matt Schneider (guitar)
"No, The Exciting Trio isn't a typical guitar group. On the trio's debut recording, In Chicago There is Willy, the band tends toward dry melodicism, gentle pacing and cool abstraction, touching equally on jazz and post-rock, while lining their music with bits of electronic sound...this CD is a promising start for a young band." — Aaron Steinberg, JazzTimes
"The band pursues a modernist like approach, complete with ostinato-based patterns, a fair amount of compositional deconstruction and brisk unison lines. They delve into free jazz, and free form space jams, featuring dissonant chord voicings and softly executed, cosmic meltdowns." — JazzReview.com
More Information...
The Exciting Trio — Signal to Noise
The Exciting Trio — Cadence
The Exciting Trio — The Wire
The Exciting Trio — JazzReview.com
The Exciting Trio — All About Jazz (Italy)
Exciting Trio main page at 482music.com
Copyright © 2023 482 Music