Grey Ghost: How to Create Words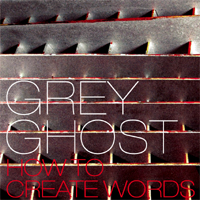 year: 2003 | cat#: 482-1022
Tracks
| | |
| --- | --- |
| 1. | Spitzacolli |
| 2. | Splendor |
| 3. | Horns and Organ |
| 4. | Hand Down |
| 5. | When You Say Go, Leave |
| 6. | Command Control |
| 7. | Unheard, Other Bands Practice |
| 8. | Spool |
| 9. | Keep On |
Recorded January 26 and August 3-4, 2003 at Acme Studios and 2020, in Chicago.
We're now five years or so into the laptop era of improvised music, during which ever greater numbers of players have attempted to incorporate electronic elements into their improv work. Some use a computer as an extra tone source, setting a preprogrammed pattern of notes in motion, then picking up another instrument and playing along; some perform in teams in which one player's output is electronically augmented or manipulated by another. Since forming the duo Grey Ghost in early 2002, reedist-laptopper Aram Shelton and drummer-keyboardist Johnathan Crawford have been developing their own methodology; listening to their debut album, How to Create Words (482 Music), it's clear they're onto something. Through his work in groups like Dragons 1976, Arrive, and Rapid Croche, Shelton has established himself as one of the finest young saxophonists in town--his tart alto tone and melodic generosity show strong signs of Ornette Coleman's influence--and the organic-feeling synthesis of horn and laptop he's created here is testament to his abilities as both composer and improviser. While Shelton occasionally uses computer-generated bass lines as structural nuggets to improvise around, a la Chicago Underground Duo, most of the sonic elements in play come from terse samples of his own saxophone. On a track like "Spitzacolli" he starts with a succession of breathy alto licks, samples them in real time, and tweaks the samples on his computer until they fit together in an endless self-reflecting grid; then Crawford snaps out of a gentle cymbal wash into a hard-hitting circular groove and Shelton solos over the hall-of-mirrors framework. The sax samples on "Hand Down" are percussive pops and harmonic squeaks repeated ad infinitum while Crawford taps out a spare, stuttering beat, giving Shelton plenty of room for a moody solo, while "Unheard, Other Bands Practice" is a loose assemblage of percussive clatter, dyspeptic melodica puffs, striated columns of breath, and bell-like electronic tones.
- Peter Margasak, Chicago Reader "Critic's Choice"
Musicians: Johnathan Crawford (synthesizer, percussion, melodica), Aram Shelton (saxophone, computer, clarinet, trumpet)
"Top 10 Jazz albums of 2003" — Magnet
"Jazz/21st Century/Classical Top 30 Chart Toppers List for 2003" — CIUT-FM (Toronto, Canada)
"This record, like the other releases in this series, displays a confidence that belies the youth of its creators" — Signal to Noise
"Grey Ghost have a great electroacoustic sympathy, sounding something like an adrenaline-laced John Butcher." — The Squid's Ear
"...resolutely impressive, experimental and challenging...This is a hell of an album." — Splendidzine
More Information...
How to Create Words — Cadence
How to Create Words — The Wire
Grey Ghost main page at 482music.com
Copyright © 2023 482 Music