The Treehouse Project: The Picture Show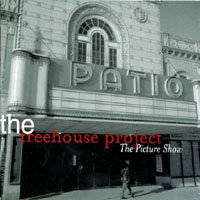 year: 2002 | cat#: 482-1008
Tracks
| | |
| --- | --- |
| 1. | Tic Toc - mp3 sample |
| 2. | The Party |
| 3. | Slow Boat - mp3 sample |
| 4. | A Little Pick-Me-Up |
| 5. | Tic-Toc Reprise |
| 6. | Never One To Complain - mp3 sample |
| 7. | A Few Good Men |
| 8. | Graduation Day |
| 9. | Places Everyone |
| 10. | Hold It...Hold It! - mp3 sample |
| 11. | The Ugliest Girl Alive |
| 12. | Time Out |
| 13. | Corsages |
| 14. | The Big Top |
| 15. | Intermission |
| 16. | Curtain |
| 17. | The Cocktail Party Effect - mp3 sample |
| 18. | The Slow Learners Club |
| 19. | A Perfect Fit - mp3 sample |
| 20. | Dance Lessons |
| 21. | A Place For Us - mp3 sample |
| 22. | Last Words |
| 23. | Politician |
| 24. | Just A Little Loving |
| 25. | You Don't Know Me - mp3 sample |
| 26. | Child Star - mp3 sample |
| 27. | The Dutch Boy |
| 28. | Just A Song Before I Go |
The Treehouse Project combines some of Chicago's finest indie and jazz musicians into a thoroughly unique blend of jazz ideology, indie rock attitude and roots music flavor. Their self-titled debut was widely praised by jazz writers.
The Picture Show is an ambitiously conceived and elaborately packaged 3cd set that first sets musical themes and improvisation to and from home photographs, and then pays homage to singer-songwriters, covering artists as diverse as The Handsome Family, Ron Sexsmith and Ray Charles. On stage the music is played in a multi-media show during which the photos to which the themes were created accompany new improvisations. All photos are included in the cd.
Musicians: Ken Champion (pedal steel), Jonathan Doyle (tenor saxophone, clarinet), Mike Reed (drums), Matt Thompson (bass, uke violin), Colin Bunn (guitar) with Brian Anderson (piano), John "Bud" Poston (banjo), Lisa Shrag (harp), Nate Walcott (trumpet)
"Further evidence that the city of Chicago has been spearheading a new jazz renaissance at the dawn of the 21st century...the music is gorgeous, accessible, adventurous, and poetic...a massive undertaking in both breadth and scope... demands to be heard and savored and learned from. Brilliant. *****" — All Music Guide
"Publisher's Pick of the Week" — All About Jazz
"..ambitious, ...remarkably successful...spans an extremely broad range of styles, traveling through sound and image with a fluidity that is almost surreal." — All About Jazz
More Information...
The Treehouse Project - The Picture Show — The Wire review
The Treehouse Project - The Picture Show — Cadence review
The Treehouse Project - The Picture Show — Jazz USA review
The Treehouse Project - The Picture Show — Jazz Weekly review
The Treehouse Project - The Picture Show — Illinois Entertainer review
The Treehouse Project main page at 482music.com
Copyright © 2023 482 Music