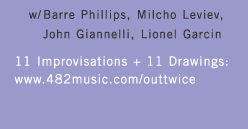 I don't usually like to explain what I do as I prefer to let things speak for themselves. Art lovers should be detached from theories and analyses and react on pure emotional and intuitive levels. However, for those who might enjoy to know about the process that guided me, here is the story.

In the past few years I wanted to focus my energies, unify my interests, and combine my composition, improvisation, performing and visual arts into a single language. With this idea in mind, I went to visit two great musicians and friends. Barre Phillips and Milcho Leviev are two giants in art exploration. Thanks to the Canada Council, I was able to concretely proceed to this somewhat ambitious task. I went out twice.

I recorded two sessions, one in Los Angeles while visiting Milcho and a second in the south of France while visiting Barre. At each session, I pulled out a different set of drawings for the musicians to play. I was very fortunate to meet John through Milcho, and Lionel through Barre. All these great musicians found their place right in the centre of the music.

So, formal composition gave way to sketches and drawings accompanied with different types of guidelines, written instructions, traditional music notation, visual cues and interpretation of colours, lines, dots, figurative things. The visual became my new calligraphy. Eyes, ears, instinct, improvisation, communication, feeling, trust and courage all work together here to create multi dimensional music.